Tinubu Snubbed Osinbajo In London – Source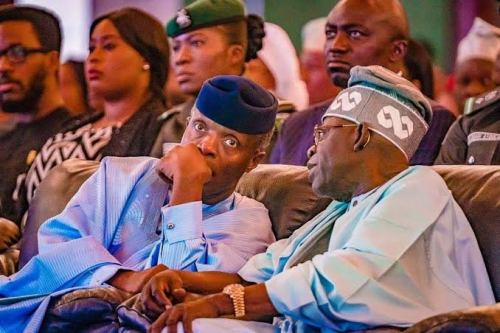 Tinubu Snubbed Osinbajo In London – Source


The battle ahead of the 2023 general election is getting stronger daily as strong politicians express interest in running for presidency.
There had been speculations that there is rift between the National leader of the All Progressives Congress, Bola Tinubu and the Vice President of Nigeria, Yemi Osinbajo due to their desire to take over from President Muhammadu Buhari in 2023.
Its no longer hidden that Osinbajo failed to visit Tinubu during his medical vacation in London and upon his return to the country.
The likes of President Buhari, Babajide Sanwo-Olu of Lagos State, Umar Ganduje of Kano State and many others had visited him in London.
A source that spoke with Thisday, disclosed that the APC leader snubbed the vice president during his medical vacation in London.
"Essentially, Osinbajo arrived London to attend a conference and then, see Tinubu. As he arrived, he was supposed to see Tinubu the next morning but Tinubu left town by 6 a.m. the next morning to avoid seeing him. Even Adeboye (General Overseer of the Redeemed Christian Church of God, Pastor Enoch Adeboye) had arrived a day earlier and they planned to see Tinubu," the source said.
The source noted Osinbajo has to make up his mind after his failed bid to see Tinubu.
"Tinubu has ramped up his campaign and Osinbajo also wants to be president and both cannot be president.
"So, now the die is cast for the battle of his life. He has not decided to run but a lot of people are mobilising him to run."