Spirit Of God Not Happy With Buhari, Osinbajo, Others – Father Mbaka Warns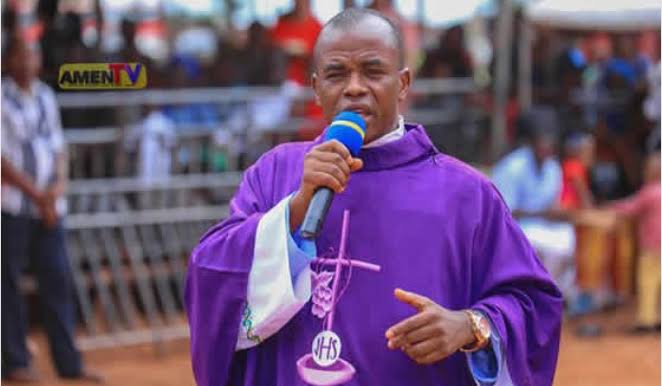 Spirit Of God Not Happy With Buhari, Osinbajo, Others – Father Mbaka Warns


The Spiritual Director of Adoration Ministry, Enugu, Reverend Father Ejike Mbaka has warned that the Spirit of God is not happy with Nigerian leaders.
Speaking in a sermon on Sunday, Mbaka stated that cannot be quiet while Nigerians suffer.
He said: "The Spirit of God is not happy with our leaders no matter how they want to paint it. Even if all the men of God are silent, the Spirit of God cannot be silent.
"If the poor masses are crying, we men of God must cry with them. Because they call us father.
"I cannot be calm and my children are being killed."
Meanwhile, in a video post on the ministries social media pages, Father Mbaka warned President Muhammadu Buhari to stop buying jets.
The Catholic priest stated that such jets would be used to collapse the country.
According to the controversial cleric, President Buhari should instead build industries that will offer jobs to young people.
Father Mbaka urged Buhari to listen to the agitations of individual to bring lasting peace to the country.
Mbaka said: "The president should take this message, the jets you are buying are going to be used to be used to collapse Nigeria. Please the first person to meet President Buhari after this message should tell him that all these jets they are buying are going to be used, God told me to tell him that all these jets are going to be used to destroy Nigeria, let him stop buying more jets and begin to build more industries."