Sanwo-Olu Meets 'Best Artist In UAR' Bodataiye Who Drew His Caricature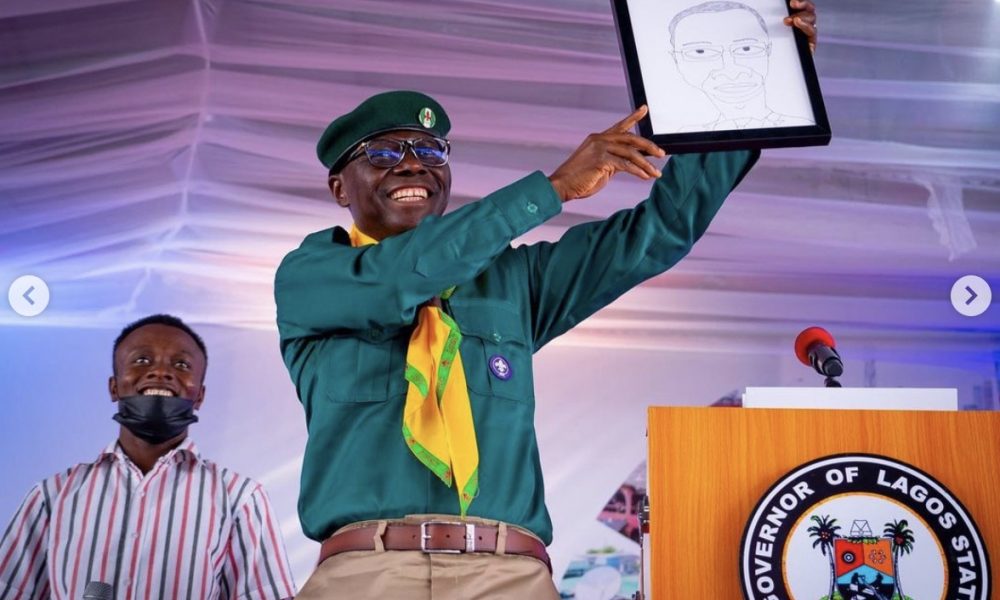 Sanwo-Olu Meets 'Best Artist In UAR' Bodataiye Who Drew His Caricature


The Governor of Lagos State, Babajide Sanwo-Olu Tuesday disappointed those who have expressed the fears that he could get Bodataiye Oniyakuya locked up for having the audacity to draw a grotesque image of him.
This was as the Governor received the framed presentation from Bodataiye, whose real name is Taiwo Osinowo, the comedian who drew his caricature, at the Lagos Youth Symposium in Ikeja.
"The best artist in UAR" came to present his drawing to me", Sanwo-Olu told his audience at the Blue Roof, in Ikeja.
"I honestly can't lay claim to the person in the frame, but I lay claim to the fact that we will continue to support and encourage our talented youths in Lagos state.
"We are also adding fashion and entertainment to our school curriculum," he said.
There were fears in some quarters that the artist will be arrested after Sanwo-Olu took to the comment section of Oniyakuya's Instagram page to question if he was the one so drawn by the artist.
He wrote; "Really? So, it's me you drew like this? I'm guessing you'll like to present it to me, abi? ok. come and present it to me in my office..Hmmmm"
The comic artist answered Governor Sanwo-Olu's invitation with his lookalike twin brother to make the framed presentation
Some of the celebrities Oniyakuya
he had drawn did not like his work. Omotola Omosexy Jalade Ekeinde, was one of them. She told the artist whether he was OK at all.
"Pls. You're not well, what is this? Come May 28th, you will be locked down," she wrote last year.
Comedian Warripikin is offering N100,000 for information on the 'comprehensive address' of Bodataiye Oniyakuya.
Bodataiye Oniyakuya had also drawn the caricaure of political leaders like President Muhammadu Buhari and Asiwaju Bola Tinubu.