Photos Of The Oyo Prison Facility Attacked By Unknown Gunmen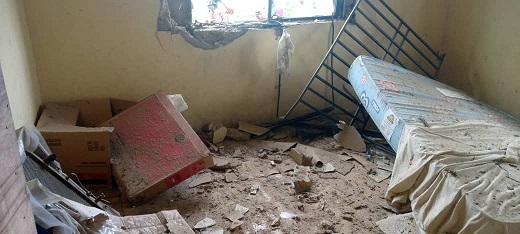 Photos Of The Oyo Prison Facility Attacked By Unknown Gunmen


Images have emerged of the extent of damage caused by unknown gunmen who invaded the Abolongo correctional facility located in Oyo, Oyo State.
Ezenwoko's Blog had earlier reported that the attackers stormed the facility around 10pm on Friday night bearing weapons and deployed grenades to gain access.
According to reports, all the prisoners in the facility were set free even as the warders keeping watch on the inmates scampered for safety when the gunmen attacked.
It was further gathered that after the attack, security agents have been mobilized to secure the area and track down the attackers.
The attack on the facility has been confirmed by the Public Relations Officer of the Command, Olanrewaju Anjorin on Saturday.
While confirming the attack, he added that some of the escaping prisoners have been re-arrested by security officials deployed after the Friday night attack.
Subsequent reports claimed the attack on the Abolongo correctional facility, Oyo town in Oyo State was carried out by bandits to set free a Fulani warlord.
Prison sources told Sahara Reporters that the attack was carried out to free the detained notorious Fulani warlord, Iskilu Wakili and other criminal Fulani herdsmen.
Below are some pictures of what is left of the facility after the attack.