Charges Against Nnamdi Kanu Mere Speculations, Won't Stand In Court – Ifeanyi Ejiofor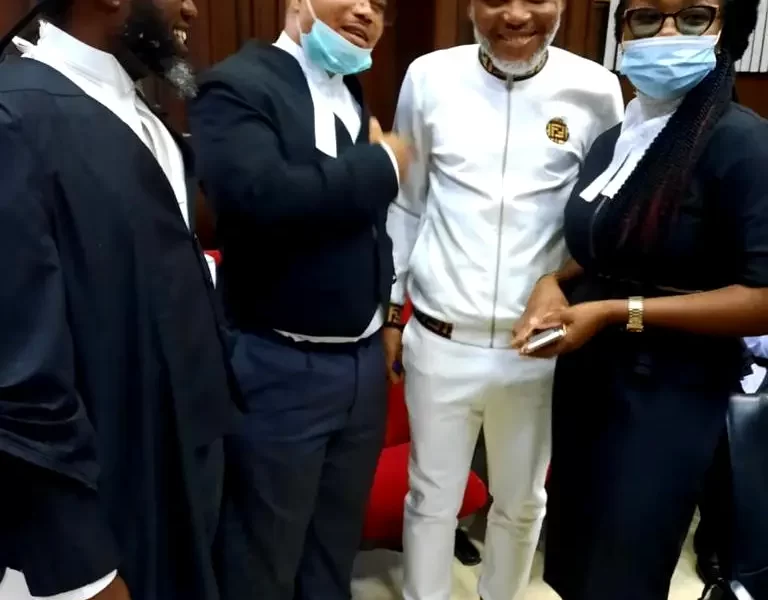 Charges Against Nnamdi Kanu Mere Speculations, Won't Stand In Court – Ifeanyi Ejiofor


The lead counsel of Nnamdi Kanu, the embattled leader of the Indigenous People of Biafra (IPOB), Ifeanyi Ejiofor, has rubbished the charges against his client.
Recall that journalist and individuals were barred from witnessing the trial of Nnamdi Kanu on Thursday.
Following the trial, AGF Abubakar Malami had in a press conference accused Nnamdi Kanu of killing Dr Chike Akinyuli and former presidential aide, Ahmed Gulak.
The AGF also accused the Kanu-led IPOB of attacking 164 police stations and killing 175 security operatives across the country, stating that a Presidential Ad-hoc Committee which was inaugurated by President Muhammadu Buhari to investigate activities of the IPOB came up with the figures.
He noted that 175 security personnel killed comprised of 128 Policemen, 37 military personnel and 10 other security operatives.
The minister alleged that Kanu's broadcasts fuelled the #EndSARS protests that led to the destruction of public facilities, including the attack on the Oba of Lagos.
Malami said Kanu is not alone in his operations but has been receiving help from some individuals, countries and organizations sympathetic to his cause.
Reacting in a post on his Facebook page, Ejiofor stated that most of what Malami accused Nnamdi Kanu of has been addressed by the IPOB's leader counsel.
According to the pro-Biafra activist lawyer, he would ensure their is media presence, going forward, in the courtroom during the hearing of the IPOB leader's case.
He wrote, "Henceforth, No Hearing will be conducted in our Client's case without media present, we shall insist, come 10th November 2021."
"After a robust outing of 21st October, and strong objection raised to the empty charge, the narratives changed.
"Note that the media has been awashed with this false narrative right from the very first day our client was extraordinarily renditioned to Nigeria, even before the amended seven charges were filed twice.
"Their seven counts were amended twice upon being served with our Preliminary Objection. Remember that the facts they substantially relied upon in their purported amended charge, dwelt much on this speculation as you saw in their press statement.
"In all, I implore you all to remain calm, peaceful and focused, your eyes should always be on the ball, because we will demystify them only in law court. They cannot place something on nothing and expect it to stand, it must fail woefully!"