PDP Suspends Obaseki, Shaibu's Loyalists In Edo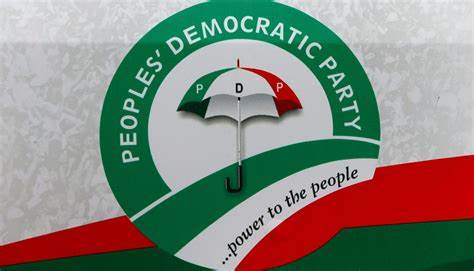 PDP Suspends Obaseki, Shaibu's Loyalists In Edo


The Peoples Democratic Party (PDP) in Ward 2, Etsako West Local Government Area of Edo State has suspended ten loyalists of Governor Godwin Obaseki and his deputy, Philip Shaibu.
In a letter signed by the Ward Chairman, Suileman Momodu, Secretary, Elamah Abdulganinu and 17 others, the party said the members were suspended for alleged anti-party activities.
Ezenwoko's Blog understands that most of the suspended members defected along with Obaseki and Shaibu from the APC to the PDP.
The party listed their offences to be: "Breaching of the party constitution and manifesto, disobedience and neglect to carryout lawful directive of the party organ and officers of the party.
"Engaging in anti-party activities, engagement in conduct likely to cause disaffection among members of the party and is likely to disrupt the peaceful, lawful and efficient conduct of the business of the party."
Other offences are engaging in unauthorised publicity within the party, creating a parallel organ at the ward LGA level and promoting actions that belong to another group under the guise of the party by name, New PDP.
According to the Ward Chairman, the suspension was in line with the party's constitution.
In other news, the senior pastor of Citadel Global Community Church, Tunde Bakare, has accused the National leader of the All Progressives Congress, Bola Tinubu, of using funds looted from Alpha Beta to secure elections of some South-West governors.
Bakare in an interview with This Day revealed how Tinubu allegedly used funds from Alpha Beta and other resources to install governor Kayode Fayemi of Ekiti and former governors Ibikunle Amosun and Rauf Aregbesola, including the late governor Abiola Ajimobi of Oyo state.
He said, "You see, there are some things that Tinubu has done. How he fought PDP from capturing the whole of Southwest is remarkable.
"And how he used whatever resources he was getting, either from Alpha Beta or any other source, to secure Ogun, Oyo, Ekiti, Osun and even Edo. Remarkable," he said.
The cleric said the former Governor of Lagos was unable to capture Ondo State because of his intervention as a man of God. "He didn't get Ondo during Mimiko because I said if he came second in Ondo, then God has not called me and we walked the talk.
"We supported Mimiko in every way we could. I was there because I felt this widespread cancer was growing and a time is coming when he'll become the only force to reckon with.
Bakare further stated that his opposition to the APC leader in Ondo was because he feels "We must have an alternative platform in the southwest."
The cleric who had condemned Tinubu in the past and vowed that he would repay every fund looted, in another instance lauded him.