Fake News: World War III Is Imminent With Social Media Abuse – Mohammed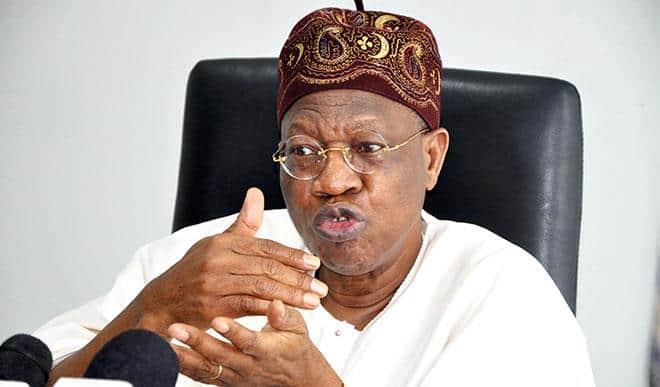 Fake News: World War III Is Imminent With Social Media Abuse – Mohammed


Nigeria's Minister of Information and Culture, Lai Mohammed, has insisted that the spread of fake news on social media will cause World War III soon or later.
Mohammed again questioned the role of social media among Nigerians, lamenting that many people do not watch television, read newspapers like in the ages but prefer to go on social media which according to him, houses fake news.
Ezenwoko's Blog understands that the Minister said this on Monday, October 25, when he appeared before the House of Representatives committee on information, national orientation, ethics, and values to defend his ministry's 2022 budget.
He said: "The people today, they don't read newspapers, they don't watch television — it's social media. And it is most expensive; the most unseen enemy, they are there every moment.
"With fake news today and misinformation — I have always said here that the next world war will be caused by fake news.
"You can see even the US that use to pride itself on the freedom of the press is now questioning the role of the social media."
Ezenwoko's Blog reports that the Federal government has budgeted the sum of N104,532,705 to combat fake news, hate speech, banditry, and others.
The funds for the project were added to the 2022 budget which was presented to the national assembly on Thursday, October 7. The budget reports state that N55,642,215 will be used for special enlightenment campaigns on government programmes, policies, and testimonials to weigh the influence of government policies on Nigerians.
The budget also stated that N48,890,490 would be dedicated to quarterly interaction with foreign media and PR lobby.
Recall that President Muhammadu Buhari had presented the 2022 appropriation bill of N16.39 trillion and a proposed budget deficit of N6.258 trillion which is to be funded from foreign loans.
During his presentation of the budget to the National assembly, the president stated that although he was aware that most Nigerians were worried about the loans that would be used to fund the budget, it was how he planned to lift Nigerians from recession.
The Minister of finance, Ahmed Zainab also stated that the loans were needed to sponsor major projects and said that the country could not bank on the internal revenue of Nigeria because it was not enough.