Biafra: IPOB Lawyer Tables Demand Before DSS Ahead Of Nnamdi Kanu's Trial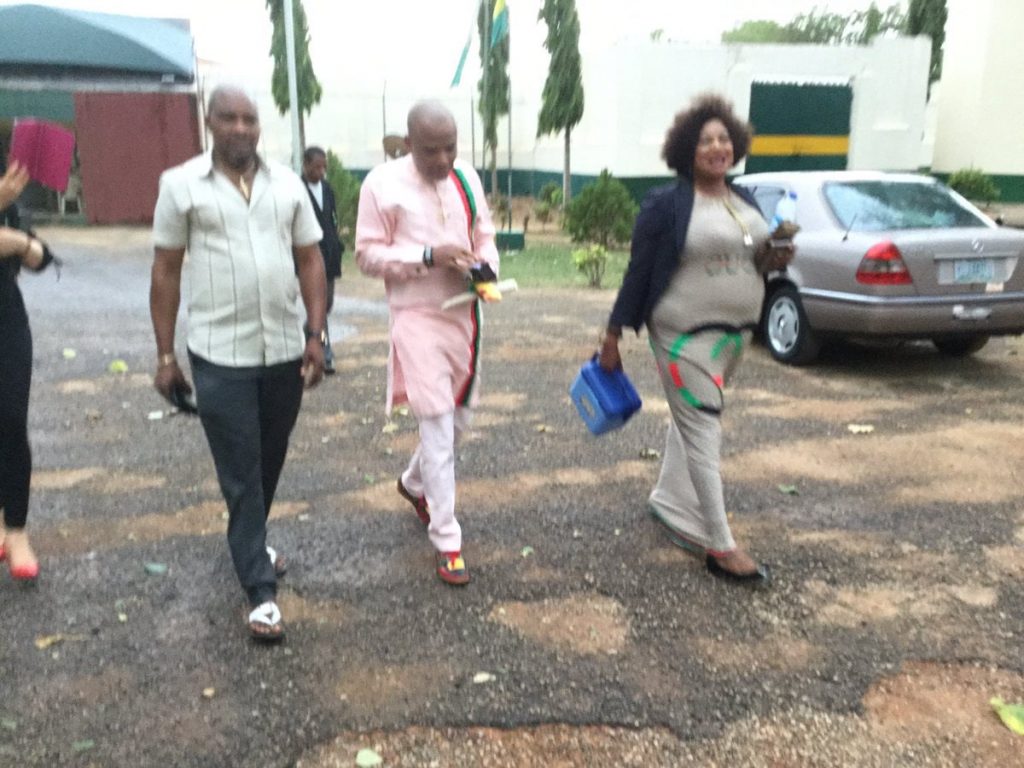 Biafra: IPOB Lawyer Tables Demand Before DSS Ahead Of Nnamdi Kanu's Trial


The lead counsel of Nnamdi Kanu, the embattled leader of the Indigenous People of Biafra (IPOB), Ifeanyi Ejiofor, has warned the DSS against keeping the IPOB leader from court.
The pro-Biafra activist will on Thursday appear before Justice Binta Nyako of the federal high court, Abuja, to face charges on terrorism, insulting President Muhammadu Buhari and others.
Recall that the DSS had failed to bring Nnamdi Kanu to court on July 26, citing logistics reasons.
But speaking in a press conference on Wednesday, Ifeanyi Ejiofor, warned that failure to bring Kanu to court may fuel protests in the southeast.
According to the lawyer, Nnamdi Kanu's legal team would not condone any attack, harassment or molestation of the IPOB's supporters.
He stated that if the Biafran agaitator is not given a fair hearing and brought to court the current agitation would only be aggravated.
The statement partly read, "That security agents ostensibly to be deployed to man the court and its environs, or detailed to provide security on this 21st day of October, 2021, should be manifestly civil in their conduct towards the civilian populace who are expected to throng the Court in their numbers in solidarity. 
"It is on record today, that over 20 persons all of Ebonyi State indigenes/extraction, including a lawyer, who were in court on the 26th day of July, 2021, to witness the hearing on this case were intercepted and arrested on their way back home, at Lokoja by the Nigerian security agents, and till date, they are still being held in various detention facilities of the Nigerian security agents without access to their lawyers and family members. 
"Though we have commenced legal action in court against the security formations still detaining them in their various detention facilities; this is indeed, how low the state can go in gross violation of citizen' rights without these infractions being accounted for. But, be assured that justice will prevail for these dehumanised citizens in the end. 
"It is therefore, to be noted that court premises, particularly the court-room is not a barrack or police station where rules of engagement are treated with levity, and people subjected to all forms of inhuman treatment. 
"We wish to note very strongly, that the atmosphere of fear, molestation, intimidation and harassment of civilians in and around the court premises should be jettisoned, as many foreign observers have arrived in the country to witness this all important trial of a political prisoner. 
"We wish to remind the Security Agents that it was in a period such as this in 2015 and 2016 respectively, that citizens who merely came out in their numbers for show of solidarity with our Client on the day he was brought to Court, were massacred in their numbers at Ngwa National High School Aba, Abia State; Afor Nkpor, Onitsha Head-bridge, and Ziks Avenue in Anambra State. 
"We do not want a repeat of such gory incident, particularly now that people have chosen to remain indoors on this date in solidarity with our Client.
"We also wish to state that the current tension and regular Monday sit-at-home being observed by our people in the South East, despite the exercise being called off by our Client's peaceful movement, is steadily gaining momentum because our people are yet to see and believe that our Client Onyendu Mazi Nnamdi Kanu is still alive. 
"We demand for justice, fair hearing/trial and fair play, which will not only be done in the open Court but manifestly be seen to have been done by an average person watching from close proximity.
"On this note; arrest, molestation, rough handling and maltreatment of harmless civilians and sympathisers who are to be in court in show of solidarity, should not be allowed."