Socialite Rides On Okada After Saying She Can't Date A Man Who Doesn't Own A Car – [Photos]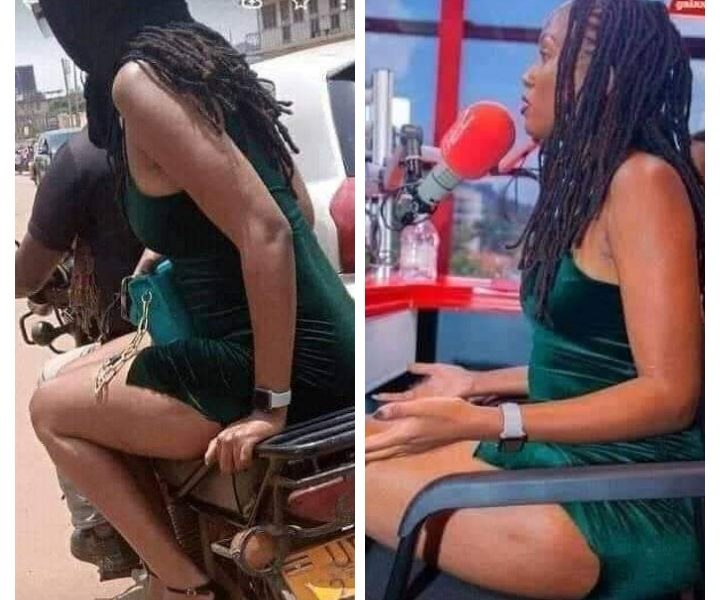 Socialite Rides On Okada After Saying She Can't Date A Man Who Doesn't Own A Car – [Photos]


A Ugandan socialite, Doreen Kabareebe, has been subjected to mockery on social media for riding on a commercial motorcycle (Okada).
It was reported that the Socialite during an interview earlier said any man that doesn't own a car should not dare come close to her for a relationship.
Ezenwoko's Blog understands that the former Miss Uganda contestant had warned her secret lovers not to dare call her phone number for a date if they don't have a car.
"If you don't have a car, don't call my number," Doreen reportedly said on Galaxy TV.
Shortly after the interview, Doreen was spotted riding on bodaboda (commercial motorcycle) with the same dress she appeared on the interview earlier.
See photos of Doreen Kabareebe below, during and after the interview:
In another news earlier, former Ekiti State Governor, Peter Ayodele Fayose, rode on Okada after he was caught in Lagos traffic.
Ezenwoko's Blog reports that the politician dumped his exotic ride to commute on a commercial motorcycle in Ikeja.
Reacting to the dramatic event, Fayose in a post on his social media page, admitted that Lagos road traffic is no respecter of anybody.
The former governor could be seen in the photos attached on the motorcycle with his security aide sitting behind him. According to the Peoples Democratic Party, PDP, member, riding on the Okada became necessary to prevent missing his flight.
"Lagos traffic is no respecter of anyone. I had to take Okada in Ikeja to avoid missing my flight," Fayose said in the post.