2023: Kwankwaso 'Demands Vice Presidential Ticket From APC' As Ganduje Greets Him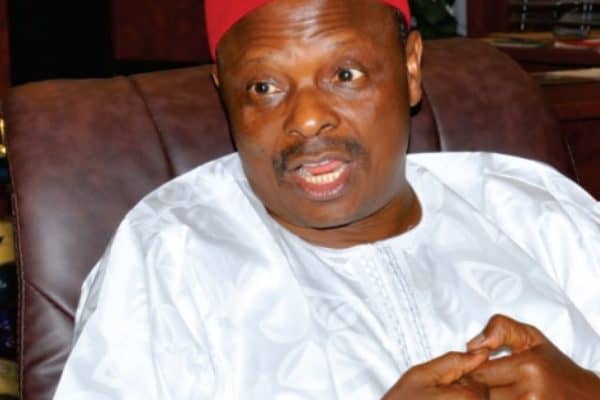 2023: Kwankwaso 'Demands Vice Presidential Ticket From APC' As Ganduje Greets Him


The delay in the rumoured plan by a former governor of Kano State, Rabiu Musa Kwankwaso, to dump the Peoples Democratic Party (PDP) for the All Progressives Congress (APC) has been attributed to the soft landing and specific conditions he has given to the ruling party.
Ezenwoko's Blog had reported that Kwankwaso alleged last month that his successor, Abdullahi Ganduje, has refused to pay his pension entitlements for six years, stating that the powers-that-be to treat him in that manner because he was not in the APC.
The former lawmaker also said that no house or an office was built for him as stipulated in law that every former governor should be provided either an office or a house as part of his benefits,
Since the leaders of the APC from the North had been mulling a southern president in 2023, Kwankwaso's conditions were that he would only return to the APC if agreed that he would be made a running mate in the 2023 presidential elections, Leadership reports.
Kwankwaso is also asking the party not to tamper with his existing structures particularly the Kwankwasiyya movement that exists across Nigeria and that the structure of the party in Kano State should go to him rather than his home state governor, Abdullahi Umar Ganduje, who was his deputy.
This report is coming as Ganduje, who had been locked in a political war with Kwankwaso since their tenure as governor and deputy expired in 2015, surprisingly placed an advert on a newspaper page to send birthday greetings to the latter.
Ganduje, in the advertisement published on Thursday, eulogized Kwankwaso, saying he cherishes what he termed their long-standing personal, official and political relationship.
It would be recalled that Kwankwaso was among some northern governors who left the convention ground of the Peoples Democratic Party (PDP) in 2014 to form the nPDP that later joined the All Progressives Congress (APC) that defeated the then ruling party in the 2015 presidential election. He later returned to the PDP months to the 2019 elections.