'You're Only Good At Lying, Making Noise' – Kwara Gov. Attacks Lai Mohammed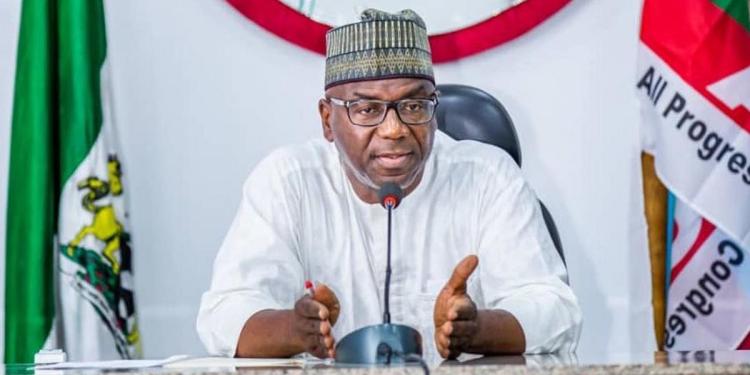 'You're Only Good At Lying, Making Noise' – Kwara Gov. Attacks Lai Mohammed


Governor Abdulrahman Abdulrazaq of Kwara State has slammed the Minister of Information and Culture, Lai Mohammed, for claiming that he funded his campaign and was instrumental to his victory in the 2019 elections.
Ezenwoko's Blog reports that the minister at a political event in the state, in July, said he raised a major part of the funds for the governor's election in the 2019 elections in the state.
Mohammed added that the governor has failed to keep to the promises he made to him and other party leaders in the state, saying the APC entered "one chance" by supporting his candidacy.
But in an interview with THISDAY, Abdulrazaq described the minister as a "liar and noisemaker", who cannot win an election in his ward in the state.
The governor stated that Mohammed is only good at making "noise" on social media and not working for the development of Kwara and its citizens.
He said: "They're noisy in the media, not on ground. Lai cannot win an election in his ward. They're good with social media noise. That's all they do. But nobody's asking how each member of the state assembly emerged. How did they manipulate their way to win their seats?
"There was no godfather, putting people in place, everybody struggled to emerge. We would network and work with each other. No godfather. Everybody struggled in their own way. Yes, I gave money, and they also sourced money for themselves.
"So everybody struggled to win this thing. But some people will sit down and say that it is their party. It is this or that, that I don't have anybody. If I don't have anybody, I have all the legislators with me. Is that not something? Let them tell me, they have people.
"How many legislators do they have both in the state and national assembly on their side? It's just a whole lot of media hype. Lai came a few months ago to make noise that he sponsored the campaign, did this and that. He made a lot of noise and pushed it to NTA."
The governor refuted the claims made by Mohammed that he funded his campaign, alleging that the minister refused to remit the donations made for his campaign in 2019.
Abdulrasaq disclosed that he planned the campaign himself with donations from friends, adding that the minister stayed in Abuja and did not know how the election went in Kwara.
He said: "Everything that was donated, Lai Mohammed did not declare to the party, or to me. Some were direct donations to me.
"Some were sent to Kwara APC but there's no governor, no minister. He was sitting there in Abuja, he did not know how we held the election.
"He did not know how we campaigned. He was in Abuja. Ask Minister Lai Mohammed, how many times he comes to Kwara? Our two ministers don't come to Kwara. They are in Abuja. Both of them. Lai goes to Lagos. That's his home.
"That's where his son is a member of the Lagos state house of assembly. That's where his family is. He has no house here. He doesn't come here. As our minister, he doesn't come home. Same with Gbemi Saraki. She doesn't come. So it's like we don't have a minister.
"That's why the pressure is on the governor. In other states, you have ministers relieving that pressure. Everything coming to the state, they stay in Abuja and hijack it. They are running from one ministry to the other to try and hijack things from Abuja. In terms of resources, they just took everything."