What Gov Abdulrazaq Said That Frightened Me – Lai Mohammed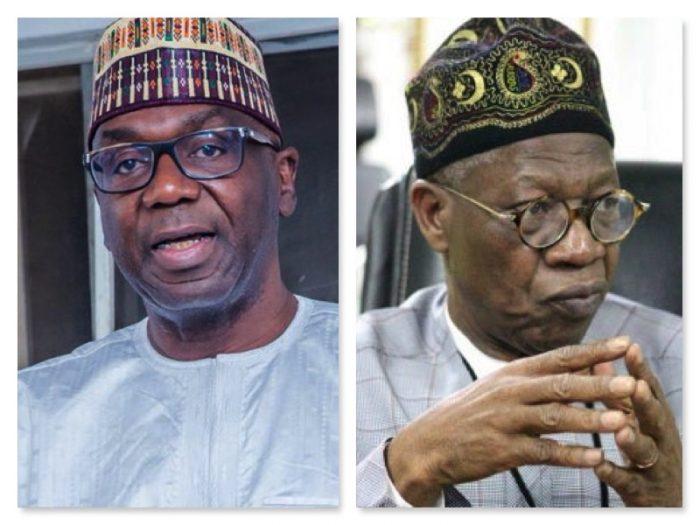 What Gov Abdulrazaq Said That Frightened Me – Lai Mohammed


The Minister of Information and Culture, Lai Mohammed has opened up on the differences between him and the Governor of Kwara State, AbdulRahman AbdulRazaq, who he said, "does not understand what our own brand of politics stands for".
Mohammed, while responding to claims earlier made by the governor of his home state in an earlier interview, told ThisDay that he was frightened that AbdulRazaq could state that he tore the manifesto of the All Progressives Congress (APC) into shreds and was now implementing his own.
This was as the Minister identified two issues which are very significant from the interview earlier made by the governor of his home state, stressing that these revelations actually describe the governor and point to his character.
According to Mohammed, "You see, in his own words, he said two things which are very significant… One, he said he is a person that can stay in a place for 10 days, without talking to anybody, which means a person like that has no business being in politics. A person like that should not be elected to any office at all, talk more of being a governor.
"This is because as a politician, you engage on a continuous basis, you consult. As a politician, you carry people along. So when a man confesses and admits himself, that 'my nature is that I can stay in one place for 10 days, and I won't talk to anybody', then you begin to understand the kind of problem you have.
"That kind of person has no business being in politics at all. Now, he said something that frightened me. He said he tore to shreds the manifesto of the party and he's implementing his own. So that person again has no business being returned on the platform of the same party. What the party stands for is the manifesto.
"But you practically disowned that manifesto when you came to power. No, that's a different ball game. But for a governor, who was elected on the platform of that manifesto to say he tore it to pieces? Honestly, I'm being very restrained. I see the governor as a deeply troubled soul. Honestly, because it takes a deeply troubled soul to make the kind of statements he is making."