Video: 'Pastor' Caught Having Intercourse With Married Woman On Church Altar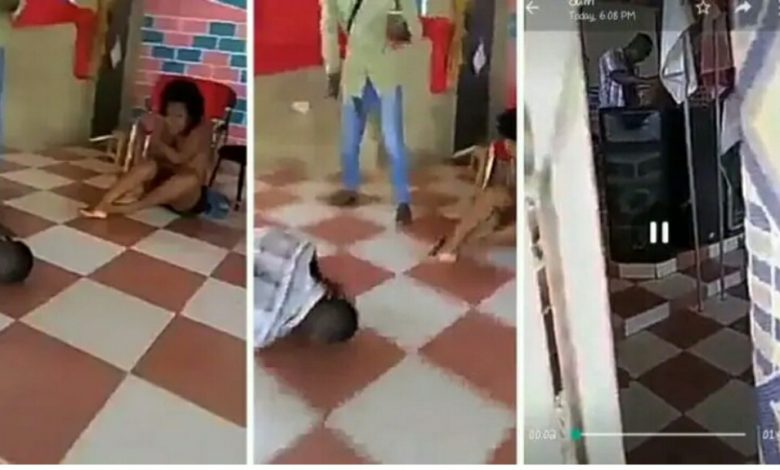 Video: 'Pastor' Caught Having Intercourse With Married Woman On Church Altar


A young man said to be a pastor has been caught inside a Church fornicating with a married woman.
Ezenwoko's Blog understands that the event happened at a local church in Ghana. As seen in a viral video on the internet, the two adults were caught red-handed by some persons who seem to have been trailing the duo.
A spy who recorded the video is observed to have monitored the pastor and the lady, making sure that they do not escape his sight while he record the event.
Feeling ashamed of their actions, the alleged pastor and the unclad lady were swinging sides to hide from the camera.
Ezenwoko's Blog reports that the people who caught them in the act, subjected them to severe beating while they film the duos in their half-naked dresses.
The two were seen kneeling and asking for forgiveness while swearing not to engage in the act. However, the name and location of the church where the incident happened could not be ascertained at the time this report was given.
See the video below as shared on social media by a Ghana blogger:
In another news, a 28-year-old lady in Illinois has killed her man for allegedly denying her a kiss.
The desperate lady, Claudia Resendiz-Florez was reportedly with her boyfriend James Jones and his girlfriend at their home in the city of Rolling Meadows when the incident happened.
Ezenwoko's Blog learnt that the trio were having a drink together when Resendiz-Florez allegedly asked Jones for a kiss but he denied her because his girlfriend was sitting next to him.