Usifo Ataga: Chidinma Pleads Not Guilty To Murder Of Late Super TV Boss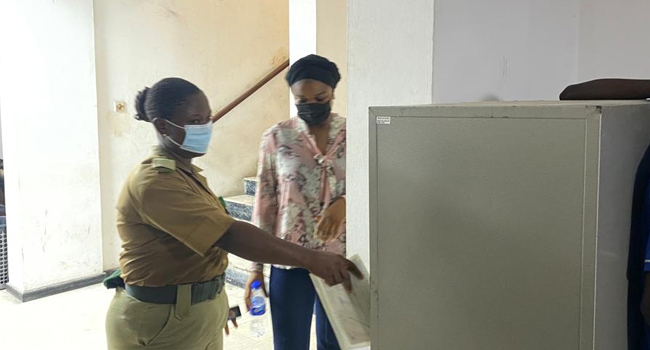 Usifo Ataga: Chidinma Pleads Not Guilty To Murder Of Late Super TV Boss


Chidinma Ojukwu, the suspected killer of the CEO of Super TV, Usifo Ataga, has pleaded not guilty to the murder charge levelled against her.
The Director of the Lagos State Department of Public Prosecution, Olayinka Adeyemi, on Tuesday, arraigned Chidinma and two others over the alleged murder of the Super TV boss.
Ezenwoko's Blog reports that the trial of the suspects was transferred to the High Court for its continuation.
The 300-level undergraduate and two others are being arraigned before Justice Yetunde Adesanya of the Lagos High Court sitting at the Tafawa Balewa Square.
The two suspects were arraigned alongside Ojukwu's sister, Egbuchu Chioma from whom the late Ataga's iPhone 7 was said to have been recovered.
Chidinma and one Adedapo Quadri, who are the key suspects in the murder case, pleaded not guilty to eight counts bordering on the offences of murder, forgery and stealing.
In count one, Chidinma and Adedapo were charged with conspiring to murder Ataga contrary to Section 233 of the Criminal Laws of Lagos 2015.
In count two, Chidinma and Adedapo were charged with Ataga's murder, an offence said to have been committed by stabbing him several times in the neck and chest with a knife.
In counts 3, 4, 5, 6 & 7, Chidinma and Adedapo were charged with conspiracy to commit forgery, forgery and making documents without authority.
They were specifically alleged to have procured false bank account statements of Ataga.
They also allegedly forged an international passport and a driver's license In Chidinma's name.
In count eight, Chidinma was charged alone with stealing two iPhones – an iPhone 7 and an iPhone 11 – one Apple MacBook Laptop and ATM cards belonging to the late Usifo Ataga from which the sum of N380,000 was subsequently withdrawn.
In count nine, Chidinma's sister was charged with being in possession of the stolen property, the iPhone 7 belonging to the late Ataga.
Ojukwu, 21, was alleged to have murdered Ataga, in a Service apartment in the Lekki area of Lagos State.
According to the prosecution, the offences contravened Sections 411, 233, 365 (2)b, 280, 329, of the Criminal Laws of Lagos State, 2015.
Mr O. Egwu appeared for Ojukwu, Mr Babatunde Busari, announced appearance for Adedapo, while Director, Office of the Public Defender (OPD), Dr Babajide Martins appeared for Chioma.
Justice Adesanya remanded Ojukwu and Quadri in prison custody.
Following an unopposed application by Martins, the judge allowed Chioma to continue on the bail granted her at the Magistrate Court.
She adjourned till November, 9, 11, 15, 16, 17, 25, 29 and 30 for trial.
Recall that Chidinma was arrested on June 24, she had initially admitted to killing Usifo after the police found his lifeless body in a pool of blood with multiple stab wounds at a hotel in the Lekki area of Lagos.
But contrary to her initial statements that she had stabbed Ataga in self-defence, the 22-year-old later in an interview in July, denied having anything to do with his death.
She explained that while they were lodged together in the short-let apartment, she briefly stepped out to buy some things only to return to his lifeless body.
Chidinma claimed that the only reason she initially took responsibility for the incident was that it was just both of them in the room and she felt that no one would believe her story.