Troops Neutralize 32 Armed Bandits Who Killed 5 Policemen In Niger State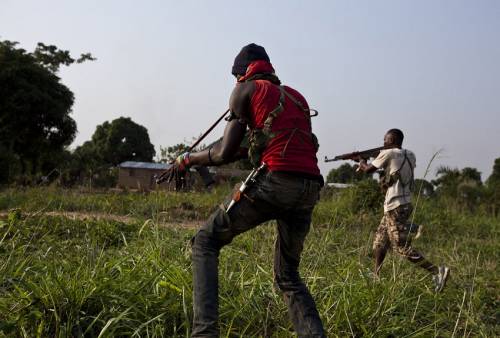 Troops Neutralize 32 Armed Bandits Who Killed 5 Policemen In Niger State


No less than 32 armed bandits operating in the areas of Niger and Zamfara States have met their ends in the hands of a joint Nigerian security team.
It was gathered on Sunday that the bandits including some of their kingpins identified as Karki Buzu and Yalo Nagoshi were killed by the troops while fleeing from Zamfara into Niger State.
However, before they were killed, the bandits had attacked a security formation in Bangu Gari, Rafi Local Government Area Niger State, killing five policemen who attempted to stop them.
Another bandit leader identified as Ali Kawaji also sustained gunshot wounds during the shoot-out with the troops.
The bandits were said to have carried out their evil acts earlier in the week before they fell into the hands of the joint security team.
"The bandits came in their large number with sophisticated weapons including rocket launchers after fleeing their camps at Danjibga and Munhaye in Tsafe Local Government Area of Zamfara State.
"They stormed the police station at Bangu Gari in Rafi LGA and killed five policemen during the exchange of gunfire.
"Immediately a signal was received and a detachment of joint security forces was despatched. The troops on reinforcement successfully ambushed the marauding bandits while attempting to escape through Tegina axis.
"At least 32 of the bandits were killed including their leaders, Karki Buzu and Yalo Nagoshi while another kingpin, Ali Kawaji sustained serious gun wounds," the source quoted by PR Nigeria on the incident said.
Meanwhile, Anambra State Indigenous Lawyers Forum ( ASILF) has revealed what would happen if the Indigenous People Of Biafra(IPOB) interferes with the gubernatorial election set to hold on November 6 in Anambra.
Joe Nwokedi, the president of the forum said in a statement made in an emergency press conference that there must be a peaceful election in Anambra whether IPOB likes it or not.
He added that the group must not try to disrupt the election as this will not be healthy for their public image and might lead to a situation where they are declared as a terrorist group.