See What This Angry Crowd Did To A Man Caught Putting Poison In His Friend's Drink In A Restaurant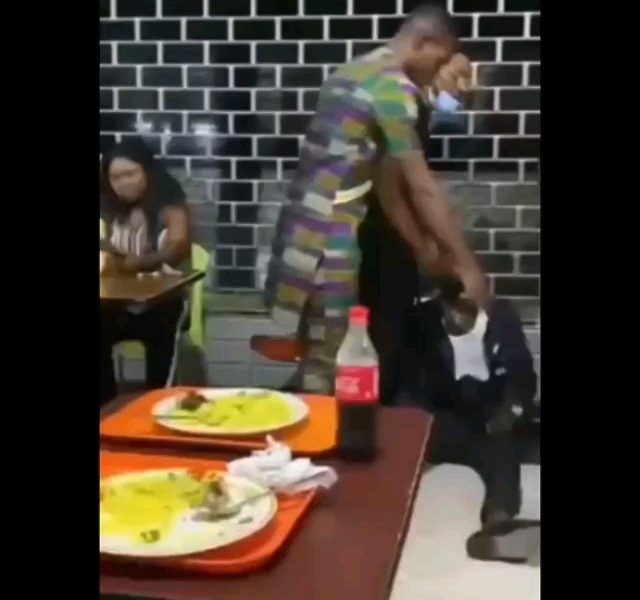 See What This Angry Crowd Did To A Man Caught Putting Poison In His Friend's Drink In A Restaurant


In a video making the rounds on social media a man who was caught spiking his friend's drink has been forced to consume it.
The man in the video allegedly spiked his friend's drink with an unknown substance while he was visiting the loo. Onlookers had noticed what was going on and alerted the owner of the drink when he returned.
In the video, a crowd is seen at the scene of the crime which appears to be a restaurant. The crowd is gathered with people speaking at the top of their voices.
The perpetrator is lying on the ground while one of the men in the crowd is holding a belt getting ready to beat up the man who is already been kicked in anger by others.
He is later forced to consume a bottle of drink which seems to be the drink he poisoned. After drinking, he begins to vomit. At the end of the video, security operatives are called upon to intervene in the matter.
In other news, a family in Osun State has been left in sorrow after a road accident claimed three of their children on the same day.
Ezenwoko's Blog understands that the victims were killed when a commercial vehicle ran over them on Kajola-Igbominasi Highway in Ilesa, Osun State on Monday.
Reports made available to newsmen revealed that the siblings were on their way to school when the incident occurred.
Attempts were made to rescue the children, unfortunately, they were confirmed dead at the hospital where they were immediately conveyed to.
This article was originally published on Ezenwoko's Blog