Osinbajo Decides On 2023 Presidency 'After Tinubu Snubbed Him, Adeboye In London'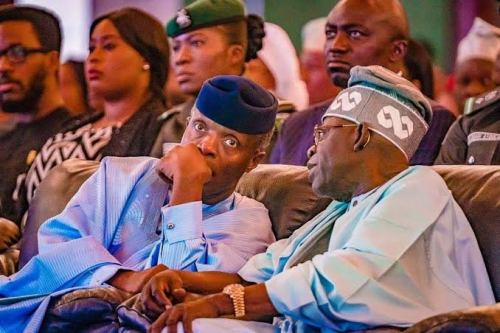 Osinbajo Decides On 2023 Presidency 'After Tinubu Snubbed Him, Adeboye In London'


The Vice President, Yemi Osinbajo has resolved to throw his hat into the 2023 presidential ring after he was reportedly snubbed by his political mentor, Asiwaju Bola Tinubu, when the latter who is also interested in becoming the next President, was recuperating in London.
It has emerged that Tinubu, a national leader of the APC, reportedly snubbed the Vice President during his medical vacation in London by refusing to see him. This, according to a report by ThisDay, has made Osinbajo make up his mind to work towards succeeding President Muhammadu Buhari.
Quoting a source, the newspaper reports, "Osinbajo arrived London to attend a conference and then, see Tinubu. As he arrived, he was supposed to see Tinubu the next morning but Tinubu left town by 6 a.m. the next morning to avoid seeing him. Even Adeboye (General Overseer of the Redeemed Christian Church of God, Pastor Enoch Adeboye) had arrived a day earlier and they planned to see Tinubu.
"Tinubu has ramped up his campaign and Osinbajo also wants to be president and both cannot be president. So, now the die is cast for the battle of his life. He has not decided to run but a lot of people are mobilising him to run."
However, a source close to Tinubu, the former governor of Lagos State, was also reported as saying that the APC Leader had been in London for two and a half months, hence Osinbajo had enough time to pay a visit if he wanted to come and see him.
"The president came to see Asiwaju; other leaders came; Osinbajo did not come. If Osinbajo had wanted to come, he had enough time to do so. Tinubu wanted to return because he wanted to avoid the crowd in Lagos. And he returned when he did," the source was reported as saying.
Ezenwoko's Blog had reported President Muhammadu Buhari's Political Adviser, Senator Babafemi Ojudu, as insisting there was no rift between Osinbajo and Tinubu, saying that both politicians belong to the same political family with a relationship that "dates way back and it shall continue to wax strong".