One dies, seven injured in Lagos-Ibadan Expressway crash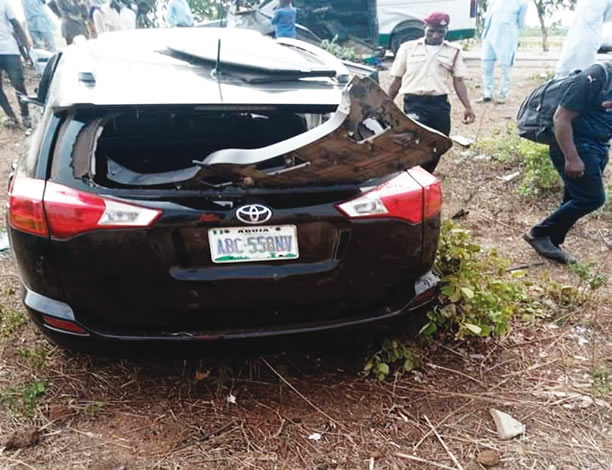 One dies, seven injured in Lagos-Ibadan Expressway crash



One person died and seven others were injured in a crash that occurred on the Lagos-Ibadan Expressway on Wednesday.
PUNCH Online gathered that the accident happened at the Magboro Bus Stop in the Obafemi Owode Local Government Area of Ogun State.
The crash which involved two trucks and two buses was said to have been caused by brake failure and speeding which resulted in a loss of control.
An eyewitness who identified herself as Chinyere said, "The truck rammed into one yellow bus. About four vehicles were involved in the accident. After the truck collided with the bus, they all swerved into the street that led to the market. It was only God that helped the situation, many people would have died."
Another witness, Lawal Alihu, said, "Two loaded trucks were coming from Lagos and one was trying to overtake the other. Meanwhile, some cars that were moving inward Magboro had already lined up on one lane coming down from the expressway, while buses coming from Lagos were dropping passengers, and in the process, the  truck rammed over the bus."
Confirming the accident, the Public Relations Officer, Federal Road Safety Corps, Ogun State Command, Florence Okpe, said, "The incident happened around 1630hrs at Magboro bus stop, 22 people were involved in the accident, seven people were injured while one person died."
Florence, in a statement made available to our correspondent, attributed the cause of the accident to brake failure and speed.
All rights reserved. This material, and other digital content on this website, may not be reproduced, published, broadcast, rewritten or redistributed in whole or in part without prior express written permission from PUNCH.
Contact: [email protected]