Nnamdi Kanu's Trial: Sowore Barred From Entering Courtroom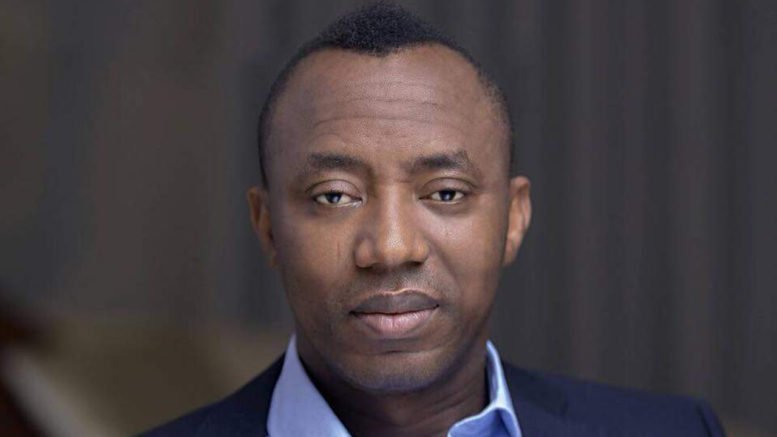 Nnamdi Kanu's Trial: Sowore Barred From Entering Courtroom


Activist and publisher, Omoyele Sowore was on Thursday prevented by security operatives from entering the courtroom for Nnamdi Kanu's trial.
Ezenwoko's Blog gathered Sowore had come to witness the trial of the leader of the Indigenous People Of Biafra (IPOB), Nnamdi Kanu who is facing charges of treason and terrorism from the federal government.
But upon arrival, the former presidential candidate was denied entrance into the courtroom by a joint team of security operatives including police and the Department of State Services (DSS).
Speaking to journalists, Sowore revealed that apart from Kanu's trial, he was also in court for some other businesses.
He said: "I am here to check the registry because for a while I have not been charged to court, I need to know about my treason case.
"Also I am here to witness the trial of my friend, Nnamdi Kanu, the court is a public space and the public should not be barred from accessing the courtroom.
"People have the right to self-determination, Nigeria has not worked and will never work. So Nnamdi Kanu is not wrong and his trial should not be in secret.
"Security operatives have consistently failed to do their jobs and now you see them harassing journalists and lawyers.
Earlier, Ezenwoko's Blog had also reported that security operatives denied journalists access to the courtroom to cover the trial of the leader of the Indigenous People of Biafra (IPOB), Nnamdi Kanu.
Lawyers, civil society groups and family members of the accused who were at the court were also denied access to the courtroom by the operatives stationed at the entrance of the Ministry of Justice building.
According to the security agents, only accredited judiciary reporters would be allowed in, however, even accredited journalists were searched before gaining entrance into the premises.