Nnamdi Kanu's Lawyers Promise FG 'Fireworks' Over Amended Charge Against IPOB Leader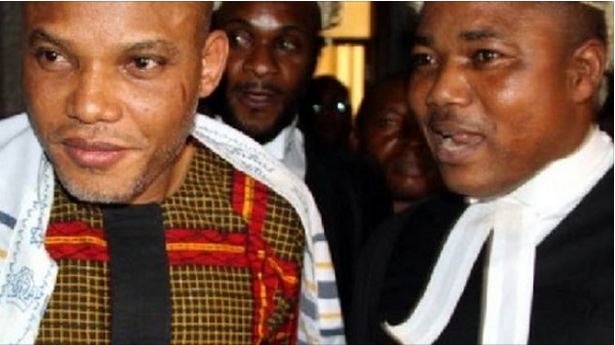 Nnamdi Kanu's Lawyers Promise FG 'Fireworks' Over Amended Charge Against IPOB Leader


The legal counsels to the embattled leader of the Indigenous People of Biafra (IPOB) Nnamdi Kanu have promised to serve the federal government legal fireworks as the trial of the Biafra agitator resumes.
Kanu's lead counsel, Ifeanyi Ejiofor sounded the note of readiness while reacting to the amended charges slammed against his client by the federal government.
He spoke in a statement on Monday night after he and his colleague, Alloy Ejimakor visited the IPOB leader in custody and assured that they were ready to meet the government in court.
Ezenwoko's Blog earlier reported that the office of the Attorney-General of the Federation and Minister of Justice has on behalf of the federal government, filed a seven-count amended charge against the leader of the proscribed Indigenous People of Biafra (IPOB), Nnamdi Kanu.
It is understood that the charges are based on treasonable felony and acts of terrorism.
The amended charges against the embattled IPOB leader come a few days before the re-commencement of Kanu's trial on Thursday, October 21 before Justice Binta Nyako of the Federal High Court in Abuja.
Reacting to the amended charges, lawyers to Nnamdi Kanu said they are pumped up and ready to engage the government legally.
"Today, I and my colleague, Bar. Alloy Ejimakor, had a very fruitful visitation to Onyendu Mazi Nnamdi Kanu. We discussed a wide range of matters, especially concerning Hearing in his case and appearance in court on 21st October, 2021. There will be more on this later."
"The coast is now clear for legal fireworks this Thursday, particularly now that we have been served with a purported "Amended Charge" in the Case."
"Nnamdi Kanu is in good spirit, awaiting his auspicious outing on Thursday, the 21st Day of October, 2021. He commended those who are in the spirit with him, while declaring that Chukwuokike Abiama has ordained this special Day for a victorious outing," the statement read in part.