Nnamdi Kanu Not Responsible For South East Killings, Ohanaeze Tells Malami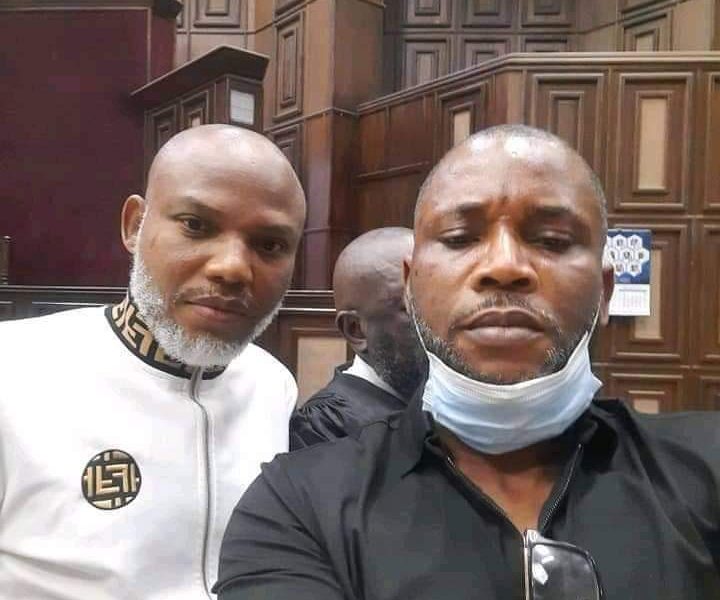 Nnamdi Kanu Not Responsible For South East Killings, Ohanaeze Tells Malami


The apex Igbo socio-cultural organization, Ohanaeze Ndigbo Worldwide, has berated the Minister of Justice and Attorney-General of the Federation, Abubakar Malami, linking Nnamdi Kanu to the South East killings.
Ezenwoko's Blog reports that Malami had in a press conference accused Nnamdi Kanu of killing Dr Chike Akinyuli and former presidential aide, Ahmed Gulak.
The AGF also accused the Kanu-led IPOB of attacking 164 police stations and killing 175 security operatives across the country, stating that a Presidential Ad-hoc Committee which was inaugurated by President Muhammadu Buhari to investigate activities of the IPOB came up with the figures.
He noted that 175 security personnel killed comprised of 128 Policemen, 37 military personnel and 10 other security operatives.
The minister alleged that Kanu's broadcasts fuelled the #EndSARS protests that led to the destruction of public facilities, including the attack on the Oba of Lagos.
Malami said Kanu is not alone in his operations but has been receiving help from some individuals, countries and organizations sympathetic to his cause.
But in a statement on Saturday by its National Publicity Secretary, Alex Chidozie Ogbonnia, Ohanaeze expressed disappointment at Malami for linking the IPOB leader to the violence that occurred during the #EndSARS protest last year October.
Ohanaeze also accused Malami of shopping for offences just to nail Kanu, urging the Justice Minister to be fair handling the trial of the IPOB leader.
The statement reads: "Malami should know that the Internet world has left him behind. All his game plans are crude and anachronistic. Malami sinister motives of heaping all criminalities in Nigeria on IPOB or the Igbo including the crimes where arrests have been made and the known culprits already arraigned is most unethical, unprofessional and unbefitting of his Office.
"Some other crimes that Malami ascribes to IPOB are still under investigation and arrests so far made are not linked to IPOB. The Malami perversions are very strange to Law and indeed a new dimension in the Nigerian justice delivery system.
"Malami's card is to paint the South-East of Nigeria as a terrorist zone, to prepare a ground for the use of the newly acquired American Super Tucano Fighter Jets in the zone.
"Malami should be reminded that the very condition for the sale and release of the jets to Nigeria by the USA is that they will be used strictly to fight the Boko Haram terrorists in the North-East and incessant banditry in the North-West.
"Furthermore, Malami is playing god by believing that 2023 is the end of the world and is plotting hard against the Igbo interest.
"Unfortunately, Malami has crossed the red line.
"It is therefore advised that Malami should not be so cheap for the uninitiated to discover his shenanigans. In other words, the above remarks by the AGF are very inelegant, imprudent, malicious, treacherous and fallacious."