Nigerian Air Force Reportedly Gives Bandit Terrorists ₦20 Million Not To Shoot Down Buhari's Plane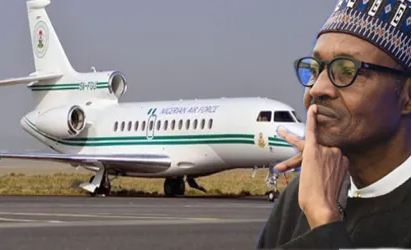 Nigerian Air Force Reportedly Gives Bandit Terrorists ₦20 Million Not To Shoot Down Buhari's Plane


The Nigerian Air Force reportedly paid a ransom to bandit terrorists to get back an anti-aircraft gun seized from the Nigerian Army.
According to The Wall Street Journal, NAF brokered the deal as President Muhammadu Buhari was planning to travelling to Katsina State, Northwest Nigeria.
An Air Force official told the US news outlet that ₦20 million was delivered to the bandits in Rugu Forest by NAF because they realised that it would be too risky to leave the weapon in the hands of bandits in an area the presidential jet would fly over.
The rugged, lawless jungle that covers parts of Kaduna, Zamfara and the president's home state of Katsina has served as a vast haven for bandits terrorising Nigeria's northwestern communities.
"The mission to buy back the antiaircraft gun began with a handoff from a high-ranking air force intelligence officer in the capital Abuja: a black zip-up bag he said was full of 20 million Nigerian naira," WSJ reported, stating that such weapon in the hands of bandits posted a threat to President Buhari, "who had been planning to fly to his hometown about 80 miles away."
It was gathered that the deal was successful and the Gun truck with 12.7 caliber anti-aircraft fire was reportedly disassembled and transported back to the military on motorbikes.
WSJ did not specify when the deal was brokered or the presidential trip that was planned.
Reports had emerged this week that President Buhari was planning on traveling to Daura, Katsina, his hometown.
According to reports, the president was going to observe some rest after gruelling schedule and trips overseers.
"He's departing for Daura this weekend for home rest. He just wants to go and rest. He will return next week," a presidential source was quoted as saying on Wednesday, October 13.
But, the presidency had cancelled the trip citing security reasons.
"The earlier trip to Daura has been stepped down over threats of the resurgence of #EndSARS memorial uprising," SaharaReporters quoted the source saying.