Actress Nkechi Blessing Slumps At Her Mum's Funeral – [Videos]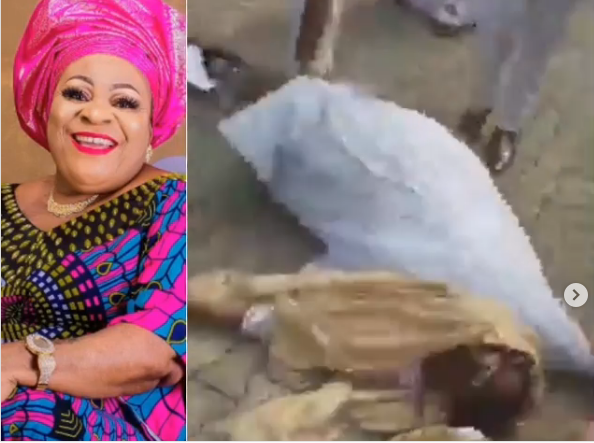 Actress Nkechi Blessing Slumps At Her Mum's Funeral – [Videos]


US-based Nigerian actress, Nkechi Blessing Sunday, slumped during the funeral of her late mother.
Naija News reports that Blessing had lost her beloved mother, Gloria Sunday, on 23rd September 2021. Mrs Gloria is said to have died after experiencing a brief stomach ache.
On Saturday (yesterday) while her mum's body was being taken to her final resting place, Blessing who had shed so many tears already during the event, slumped while dancing towards the corpse.
Ezenwoko's Blog understands that she was immediately attended to and eventually resuscitated by her friends and family.
Watch the emotional video below as shared on LIB:
In one of her emotional tributes earlier, Blessing explained how she had worked tirelessly so her late mother could be a landlady in Lagos.
She said: "My greatest fear, Mummy you shouldn't have. Hmmmmmm…You know if the doctors asked for money to keep you alive I would have begged the world to help me save you.
"But you left in a flash, Your only complaint was stomach ache…And that was the last I heard of you. I went to bed thinking I would wake up from this dream but it's indeed a reality that you left me 5 days before your birthday.
"Afianma You were a warrior, You had me at your back and said Nkechi you are unstoppable…Now that you have left me how do I face the world? Everyone around me knew I lived all my life for you, I receive insults, abuse, embarrassment on this app just to make sure you do not beg for food.
"I am fulfilled knowing you are in a better place 🙏 But it hurts that you didn't even wait to see your birthday Gift mama. the one I was working endlessly day and night to Build for you, Mama You are a landlady in Lagos and you couldn't even wait to see it. Haaaa.
"They said I should be strong. Okay, I will…But you didn't do well at all mama you didn't. Return if Possible mummy Because I refuse to accept the fact that you are No more."