Nigeria Women Leaders Visits The Rwanda Women Parliamentary Forum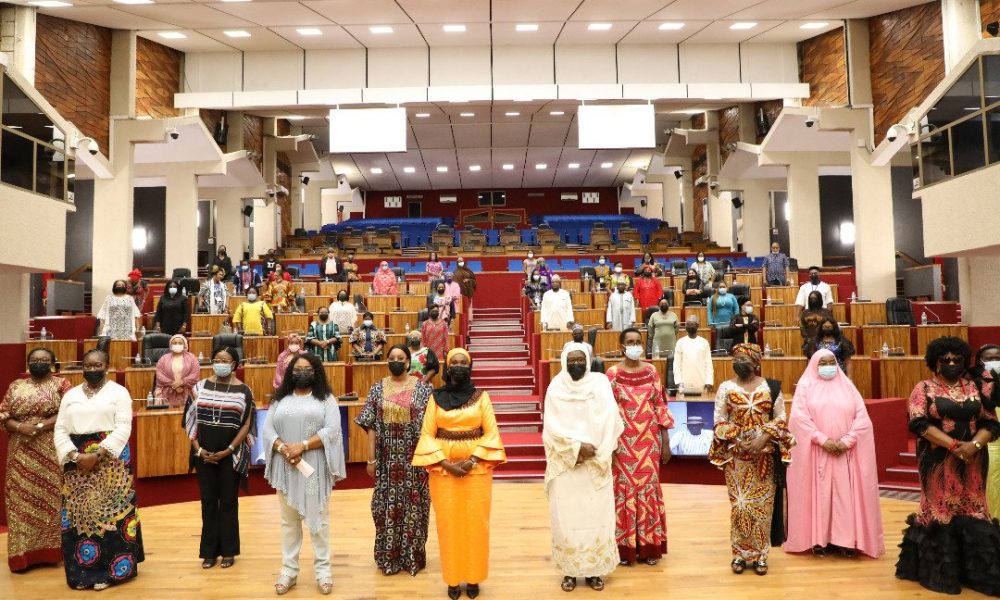 Nigeria Women Leaders Visits The Rwanda Women Parliamentary Forum


Eminent Nigerian women leaders led by the Hon Minister of Women Affairs, H.E. Pauline Tallen OFR, represented by the Director, Women and Gender Affairs, Ministry of Women Affairs, Mrs Funke Oladipo on Thursday visited the Rwanda Parliament.
The delegation from Nigeria was hosted by the Rwanda Women Parliamentary Forum led by the vice president of Forum, Senator Hadija Ndangiza Murangwa. The interactive session centered around gender equality and women's emancipation.
The Nigerian delegates included wives of governors, women commissioners, and other women leaders across several sectors.
The Nigerian minister for women affairs, H.E. Pauline Tallen commended Rwanda for being one of the world's most gender-sensitive country with parity in governance, she also thanked the Rwandan leadership for impacting positive values in women worldwide including, Nigerian women too.
She said: "According to the universal declaration of human rights, everyone has a right to partake in the governance of his or her country, the empowerment and autonomy of women and the improvement of women socio-economic and political status is essential for the achievement of an accountable government and a sustainable development in all areas of life."
"The power relations that prevent women from leading fulfilling lives operate at many levels of the society, and so achieving the goal of equal participation of women and men in decision making will provide a balance that more accurately reflect the composition of our society and strengthen democracy."
Senator Hadija Ndangiza Murangwa on her part expressed the happiness of the Rwandan parliamentarians to receive the Nigerian delegation
She noted that the progress made by Rwanda in terms of women empowerment is a targetted effort that has been strategically and ambitiously fought for through legislation and policy change.
She also added that support from men is a big contribution in terms of being able to achieve the inclusion of women in governance as well as gender equality and gender sensitivity in all policies and legislation.
Senator Murangwa pledged the continuous support of her nation in supporting Nigerian women in achieving the goal of gender equality and women's emancipation.
The convener of the conference and president of Prime Unique Women Initiative (PUWI) Dr. Folake Yobah commended the Rwandan President, Paul Kagame for his role in empowering the Rwandan women.
She noted that Nigerian women are rich in terms of knowledge and they would be more actively involved in the political, economic, and social-cultural development of Nigeria. The highlight of the visit was the presentation of gifts to the Rwandan women legislators , promotion of bilateral relationship between women of both countries.
This historic visit marks a new beginning in fostering president Buhari and president Kagame's gender sensitive policies.