Most modern marriages built on money, not love – 88-year-old reti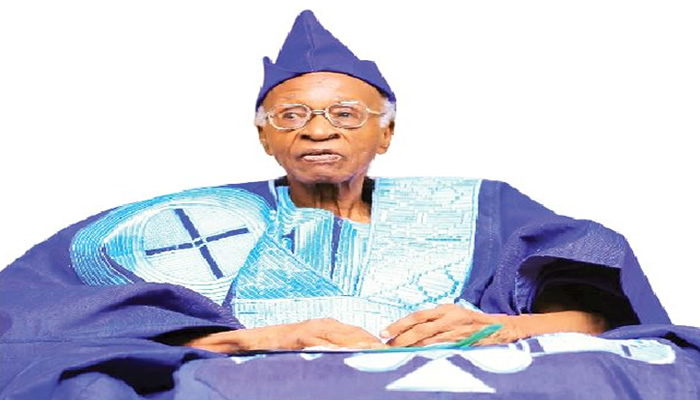 Most modern marriages built on money, not love – 88-year-old reti



A retired Permanent Secretary in the Oyo State Civil Service, Pa Amos Ogunlowo, tells TEMITOPE ADETUNJI how his experience in Canada and Sierra Leone shaped his family life and career
Where are you originally from?
For clarification sake, my name is Amos Olalere Ogunlowo, simply A. O. B. My parents told me why I was named Bamidele. I am from Ogbomoso in Oyo State.
Can you provide some insights into the type of family you were born into?
I was born into the Alapo family of Ogbomoso.
What reason did your parents give for naming you Bamidele?
It was because I was born in the Gold Coast, now Ghana. The prayer of parents for children born outside their hometowns is for such children to follow them back home, sound and healthy. So, it was a prayer meaning, 'May you follow me back to my hometown', which is why I was named Bamidele.
Did you have an enjoyable childhood?
Yes, I had an enjoyable childhood because my parents were very nice to everybody, including children, family members, and friends. There was no cause for any anxiety because my parents provided everything I needed for my upbringing.
Did you attend school early in life?
Yes, I attended school early in life. I attended Baptist Day School in Osupa, located in Ogbomoso, Oyo State. Later, I attended secondary school at Baptist Boys High School, Abeokuta.
What were your most interesting moments at Baptist Boys High School, Abeokuta?
It was an interesting story. I was accepted on transfer to Baptist Boys High School from Kumasi, Ghana, and I started with the 1950 set in 1951. So, I was at Baptist Boys High School in Abeokuta between 1951 and 1955. I also attended Fourah Bay College in Sierra Leone.
What exactly took you to Sierra Leone?
I must say it was luck that I attended Fourah Bay College. I had heard of the college for many years and had part of my secondary education in Ghana. The principal of the school in Ghana told me and other pupils that he attended Fourah Bay in the 1920s. He was the head boy at Fourah Bay at that time; he took care of all the Nigerians in the school. It was a glorious moment. That was when I first heard the idea that I might attend Fourah Bay College, and it came to pass in 1961.
Did you apply to the school?
I went there as a Western Nigerian Government scholar. Three of us went on the Western Nigerian Government scholarship, but after a few months, the (then) Midwest Region was created, and the two (other Nigerians) belonged to the Midwest, leaving me as the only one under the Western Nigeria Government scholarship from 1961 to 1962. I also liked the situation of the college. It was an international college because Nigerians, Ghanaians, Liberians, and Gambians met at Fourah Bay College. Some Peace Corps members from America also came and we enjoyed it. It was at that time that the United States Agency for International Development gave Sierra Leone a grant in which they built an expensive hostel for students. I was one of those who enjoyed staying in one well-furnished room. It is very rare nowadays to have a room to yourself without sharing.
It was a glorious moment. Particularly, the Sierra Leoneans were nice to Nigerians, especially the Yoruba, because of the historical connections (the late Samuel) Ajayi Crowther was the first student in the college. An amphitheatre was built in his name. We know that Crowther was a Yoruba man, but instead of the normal 'Ajayi,' it was spelled 'Adjayi'. It remains to date, and visitors are very anxious to visit.
Which tertiary institutions did you attend and what did you study there?
I attended Fourah Bay College, which was affiliated with the University of Durham, England. I studied Public Administration. I later went for a nine-month course in Public Administration under the Colombo Plan in Canada. I also attended the University of Ife (now Obafemi Awolowo University) in 1972/73 for a postgraduate diploma in Public Administration. I attended other courses in Nigeria. I also went to the Royal Institute of Public Administration for a three-month course. I had varied experiences, but my specialisation is in public administration.
What did you do with your first salary?
I used my first salary to rent a room and got items of furniture to decorate the room. I also used the rest for food items and so on.
Did your appointment as a permanent secretary in the civil service of Oyo State come as a surprise to you?
Well, it didn't come as a surprise because I started as a junior officer, a clerical officer, on January 16, 1956, and I was there for about six years during which I passed relevant papers at the advanced level. I was given a scholarship, came back, and served in various ministries and the Local Government Service Commission, Civil Service Commission, and Central School Board. From there, I was transferred to Kaduna as a liaison officer and permanent secretary, and finally, to the Ministry of Local Government and Chieftaincy Title, Governor's Office. So, it didn't come to me; it was by dint of hard work. I thank God for His mercies and kindness to me.
What year did you retire, and how old were you?
 I retired on April 1, 1991, making me 56 years old when I retired from service.
As a retiree, would you say life has a meaning different from what it was when you were a bachelor?
 Well, one will say after working for so many years and retiring, one feels fulfilled because one thing a civil servant can pray for is that at the end of his career, he earns a pension. In the mainstream of their careers, some were dropped, some got into trouble, either dismissed or retired. But I thank God for the 35 years with God on my side. I will always be grateful. But that period is incomparable with the present time. We have to thank God for preserving our lives until these moments. Some of my colleagues passed away many years ago. Some of us still thank God that we are alive. Some fulfillment has been recorded. I have trained our children, I live happily, and when old age sets in, I still feel confident and thank God. We pray for God's richest blessing and for our friends and well-wishers who have not left us, always praying for us. The joy of it is when you have children and grandchildren; you feel fulfilled, seeing your grandchildren call you granny or grandpa. That is the fulfilment of life. One may think of that life as a sort of duality, positive and negative.
What are you most thankful for?
I thank God that the positive aspects of my life exceed the negative. It was by dint of hard work that I got on. And by the grace of God, it's still very much alive in my life. I have one legal wife. We met in Ottawa, Canada, and we got married in Nigeria when she visited. It was a romantic affair. I thank God that she spent the rest of her life with me. We lived together for 39 years until she passed away, leaving me and her five stepchildren. She was a nursing staff member of the University College Teaching Hospital.
As I've mentioned, I met my wife in Ottawa, Canada. I was sent on a nine-month course in Canada under what was called the Colombo Plan, known as Selone, now Sri Lanka. She was nice, and since I was ready to marry and settle down, she wanted to follow me to Nigeria and spend the rest of her life with me. I consulted my parents, and they consented. The marriage lasted 39 years before her demise.
Did you consider joining politics at any time?
Not at all. I didn't consider it wise to join politics. However, I worked with politicians, especially in 1964 when I graduated from Fourah Bay College with Chief G. A. Osuntokun, who was then the Minister of Economic Planning. Many people know the Osuntokun family produced intellectuals, a very brilliant family in Ekiti. Mention Osuntokun, and people will say, 'Yes, he has made it'. From my analysis, I think he was the second graduate from Ekiti at that time. He also attended Fourah Bay College.
What was your relationship with the late Chief Ladoke Akintola?
Pa Ladoke Akintola was an Ogbomoso man and my father knew him very well. Any time my father came back from Ghana, he visited the Akintolas. Fortunately, Abayomi Akintola was my junior from the BBHS Abeokuta. I think he was a classmate of former President (Olusegun) Obasanjo. But he didn't finish at the BBHS; from form two or three, his father sent him to Britain. I knew Pa Akintola from close quarters. When one of my seniors took me to Lagos, I met him, and I was able to see Mama Ladoke Akintola. So, he was very close to my stepmother, née Ojo, and anything we had to do in our family, Abayomi Akintola was there. I loved Baba Akintola because he was fluent; his spoken English was perfect! Hausa, perfect! He was a versatile politician who could win against any opponent to his side. I respect Baba, and his son, Abayomi Akintola, is also alive. I know his sister who is also alive, enjoying the kindness of the northerners. Two of them became ministers, and Abayomi Akintola also became an ambassador. Whatever rancour there might have existed in politics, his family was well compensated.
In your opinion, what is missing in today's marriages compared to those in your era?
Well, in my era, once we agreed to marry a woman, we knew loyalty was there, love was there. It was total adherence to love throughout the marriage. For instance, I said my marriage to a Jamaican woman lasted 39 years. She treated me kindly. She was very spiritual. I always enjoyed her company, especially when I remember Jamaican reggae. We loved reggae and attended important parties when she was alive. And I had connections with so many men who got married to West Indians, especially Jamaicans or other West Indian groups.
The difference nowadays is that present-time marriages collapse, some within one year, because many of them don't think of love; it's money, money, money! They want to behave as if everything must come to them, with no perseverance. That is why many marriages don't last. There are many bad influences now, especially with DNA showing infidelity among some women. In our time, there was love, fidelity, and mutual assistance to raise children born in marriages. Women nowadays are not tolerant. Some of them are greedy. Why should a marriage collapse within one year? Why should we now be reading from the pages of newspapers that DNA is revealing the infidelity of women? So, they are not tolerant; they want to be rich at all costs. That is why we now have single mothers because there is no trust on both sides.
What contributed to lasting marriages in your era?
Sincerity was there in marriages in those days; that's why many marriages in those days lasted. Nowadays, some don't even last for more than two years. There must be sincerity; there must be love. Some of them don't cut their coats according to their clothes. They want to cut it according to their size, which is wrong. They want to maintain importance when they should struggle hard to reach the peak of life before they start showing what they are not. There is no understanding in most of these marriages. We need to pray, and parents ought to assist some of our girls to be faithful in dealing with their husbands.
At 88, what are the habits you have had from childhood that you find difficult to stop?
I must say that if you give me an appointment, I like to be punctual. Watch the life of Baptist Boy High School's old pupils. Give them an appointment for 4pm, and by the time it's 10 minutes to 4pm, they are at your doorstep. I believe in punctuality. If I cannot fulfil it, I'd let you know because it is typical of a Baptist High School old boy. I was a prefect in 1955. There were eight of us. The senior prefect was an old seminarian, who was sent to the BBHS to finish the school certificate with us to be able to have a degree in Theology at the Baptist Seminary in Ogbomoso. They did it to many of them; some were sent to Baptist Boys High School in Oyo, some to Baptist Academy, and some to the BBHS. And they became prominent theologians. Punctuality is the keyword in the BBHS. So, for punctuality, I can't stop it. Give me an appointment, I will be punctual.
Civil servants back then were known for following government activities in the news. Do you still do that?
Nowadays, I can listen to the news for a long time; sometimes I can listen into the night. And radio stations have many good programmes. I also love reading; it's only my weak eyes that I cannot worry about. That is why I included listening to the radio, and I cannot stop it. So, I feel very happy. I love reggae music. And I want to conclude that I was a very good dancer. I love dancing – classical dance. I have stopped it because of my age. So, life must go on. I thank God that at 88, I'm still alive and that my children are taking care of me. I love them; I love my grandchildren. I don't play with my spiritual life. I love singing. I love God. Spirituality has been acquired by me, and I will always be a lover of God and my religion till it is time. May there be love in Nigeria. May it begin with us from our households. May it spread throughout the countries and the world because, without love, nations cannot stay together.