IPOB: Buhari Govt Sends Message To Friendly Nations Over Nnamdi Kanu, Warns Others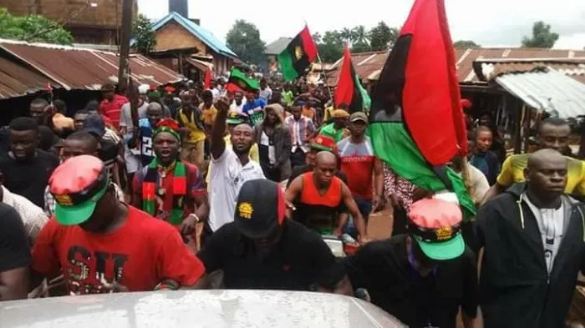 IPOB: Buhari Govt Sends Message To Friendly Nations Over Nnamdi Kanu, Warns Others


The government of President Muhammadu Buhari says there are countries helping Nnamdi Kanu, "in his destructive mission" while there are friendly others which has either banned IPOB activities or placed Kanu on 'Stop List'.
The Attorney General of the Federation, Abubakar Malami, while addressing newsmen in Abuja on Friday, expressed the appreciation of the Nigerian government to the "friendly nations", and called on those "ignoring the terrorist nature of his activities" to desist from such.
Without mentioning the countries aiding Kanu and his Indigenous People of Biafra (IPOB), Malami said, "We call on these countries to desist from aiding subversive acts by Kanu and IPOB against the state of Nigeria and its people."
Ezenwoko's Blog is aware that the United Kingdom and the United States are among notable countries that have resisted calls by the Nigerian government to designate IPOB as a terrorist organisation since it was proscribed in Nigeria in September 2017.
A British government official was at the Federal High Court Abuja on Thursday to witness the resumed trial of Kanu, who also holds British citizenship.
According to the chief law officer of the Buhari administration, "We have also established that Kanu is not alone in his subversive activities.
"He has accomplices in Nigeria and abroad, individuals and groups as well as state and non-state actors who are aiding and facilitating his campaign against the people and state of Nigeria."
"Conversely, there are some friendly countries which, recognising the status of IPOB as a terrorist organisation, have either banned the activities of IPOB or placed Kanu on Stop List.
"To these peace-loving countries that have put Kanu on their Stop Lists and banned IPOB from operating in their territories, we express our appreciation," Malami said.