Husband Sets Wife Ablaze After She Insists On Travelling For Her Mother's Burial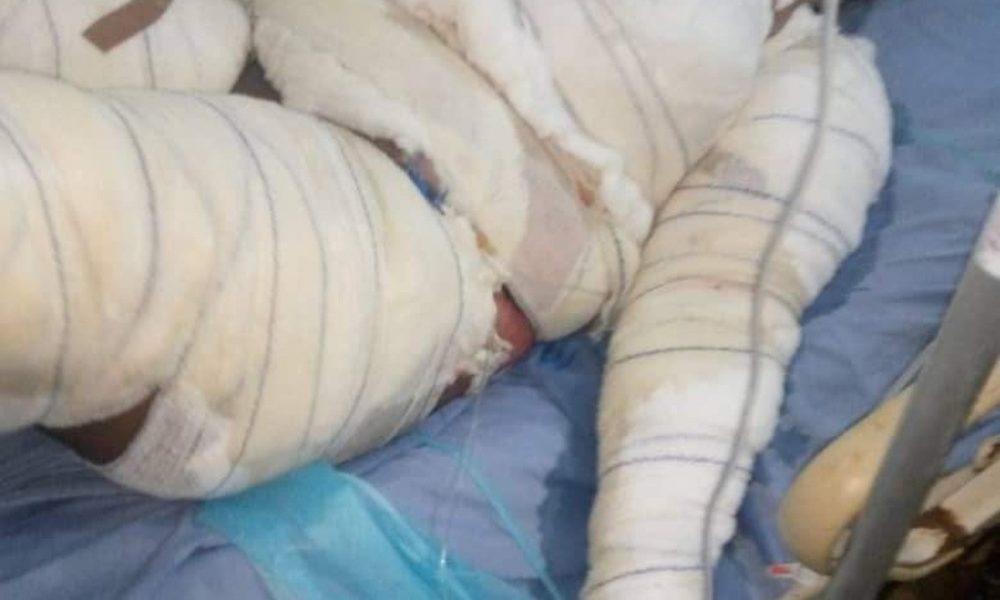 Husband Sets Wife Ablaze After She Insists On Travelling For Her Mother's Burial


A man has reportedly set his wife ablaze after returning from the village for her mother's burial preparation.
It was reported that the woman simply identified as Ebere had travelled home to join others for their late mom's burial.
She, however, returned to her base in Lagos without her loads and this stirred an angry conversation between her and her jealous husband.
Ebere had told her husband that she would go back to the village soon after he confronted her about her return with the luggages she took for the burial.
She had allegedly told him there was no need bring her load back to Lagos when she would be going back soon.
Her response reportedly angered the husband, who proceeded to pour petrol and set her on fire in their home in Lagos.
Ezenwoko's Blog learnt that Ebere sustained injuries which she couldn't survive.
She later died a hospital while receiving treatment.
According to reports, the husband who is receiving treatment in a hospital was also burnt by the fire he started.
A friend to the deceased identified as SisyCaro shared the disturbing incident on her Facebook page, Ezenwoko's Blog reports.
Mourning her friend, SisyCaro advised other women to stay out of abusive and violent relationship.
She wrote: "I will keep on saying it
When u find urself in an abusive relationships pls walk away."
Sharing about her relationship with the deceased, the netizen wrote: "Ebere the very first time we met at asolo where I came to buy food items. I was talking and having chats with those market women the vibes was so high and u stood watching me asking people who are mine?.
"Yes mummy Amaka said that's Sisi caro for u ooooooo she's got a free spirits ,that I come to the market gist with them buy market and do faaaajii and walk away and immediately u said hello and that was all.
"We became friends and exchange digits. Ebere u are big as in ,kaiiiii u are big oooooo, we nickname u Orobo ,full of vibes always asking of me but the day we met again at the market we spoke at length and I discovered ur husband is a jealous lover because u said he restricted u from been on any social media handle,he just wanted u alone to himself to the extent u cant just pick calls anyhow, he must questioned u who was that etc.
"Well I want to believe u have ur reasons for staying in such relationship despite all thats happening in these world we are.
"Even when I lost my father I heard u visited the market and u were informed and felt for me saying u need to come see me because even u yourself just got back from P/H where you Went to checked on ur mum ,who was and still in d mortuary and I heard ur husband asked u Why dont u come with back with ur luggages u travelled with and ur response was since u will soon go back there was know need carrying bags to and fro.
"That was all. ur husband just went out came back poured u petrol and set u ablaze. Just like that I learnt u died exactly a week ago
Hearing these tonight disorganised me bajebaje.
"Kaiiiiii Ebere and for ur husband I learnt his in luth partly burnt as well
Oga husband what's ur gain now if am to ask. measure the extent of your retardation. This is all you have to say? Even if she was engaged in gossip and aproko that angered the husband nobody has the right to set someone else ablaze. NOBODY."
See below SisyCaro's post which has generated a barrage of reactions: