Flashback: Tiwa Savage Slept With 2Face, Don Jazzy, Dr Sid, Others – Teebillz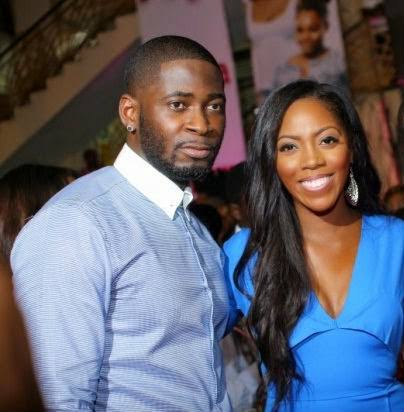 Flashback: Tiwa Savage Slept With 2Face, Don Jazzy, Dr Sid, Others – Teebillz


Going back to memory lane amid Tiwa Savage leaked sex tape, the singer's estranged husband, Tunji Balogun popularly known as Teebillz, had once accused her of sleeping around with male celebrities.
Ezenwoko's Blog understands that Savage and Teebillz got married in Dubai in the year 2013. Their marriage, however, started to crack down the following year over infidelity and self-centeredness allegations.
In one of his accusations against Savage in 2016, Teebillz alleged his musician wife have slept with Dr Sid, Don Jazzy and 2face Idibia.
At this time, Tiwa Savage had already delivered her first child to Teebillz, his name is Jamil Balogun.
Tee Billz in a series of posts on his Instagram account [@teebillz323] that year, noted that the marriage between him and the then Mavin artiste whom he once managed is over.
"It shall never be well with Tiwa Savage," Tee Billz wrote on his social media page.
He continued: "@tiwasavage this was you when I met you with 100% insecurity. I remember when Wale called me about a girl that's got talent and u told him I wasn't interested!"
Being careful not to have his child suffer the chaos between them, Tee Billz asked Savage to take good care of Jamil.
He said, "Please just take care of JamJam. I sacrificed my life for you and put in work and my money to your success. You are Tiwa Savage the superstar now right. You will never have peace with that fame.
"Your mother wants to turn me to what she turned your DAD to? I will rather Die. Ask her to confess what she's done to me! All I did was look out for your success and forgeries g who I am."
Teebillz went on to reveal how the singer subjected him to mental torture, accusing also her mother of trying to destroy him.
He said: "Lord knows I tried. I have been mentally tortured by the woman I gave everything to. I'm not perfect but I'm far away from being the best husband. Because when I dint have you paid bills and you took my manhood away.
"You have thrown my clothes out of the house more than 5 times because of the love I have for you. I still take it and because of Jamil. I don't want to go through a divorce like my father that has been married 4 times. Your mother humiliated so much that I didn't care."
Mentioning about her promiscuous lifestyle, Tee Billz wrote: "Within what period did you Fuck jazzy and Dr Sid. And I didn't care because of the love I have for you. I looked at it that we all have a past even when at this same fucking time you were fucking with 2face.
Tee Billz in the series of blasts showered praises on the singer, Omawumi's husband, Tosin Yosuf.
He thanked Mr Yosuf and his wife for the much treatment and attention they gave him.
He said: "You have a wife that he did not let the music business take the best of her. I know how Mrs Yusuf treats us when we are at your house.
"I feel very at home and praying that I wish my wife can get a life and be like this. All she cares about is the next single, her makeup and hair, her brand and all that BS. Pls, tell the world have you asked your husband in the last 3yrs if he has eaten.
"Thank you to Ani Idibia and Anita my Neighbors that provides a home-cooked meal for me when I needed. That! Yes, you became the breadwinner when I decided I'm not in business with you again, take everything I just want my wife. Tiwa. You will never have peace except my spirit forgives you. Tell your mother to confess what she mounted in the house for you to shine with my star. It's deeper than what you think.
"I'm sorry Olabisi, Gaetano. Onah and jamil. All daddy wanted to do is be a good father and take care of all of you but they won't let me. I have been fighting this spiritual battle since I was a kid my mother and father can testify. Went from family battle to mother in laws battle. @tiwasavage ask your mother to confess what she's done to me."
Tee Billz stated that he is tired of being with Tiwa Savage. He accused her of frustrating his business efforts and said her mother is a witch.
He wrote: "Lord knows I tried. I can't take it anymore. I decided that I wanted to take time out from the music business so you and I will not be in the same basket of the music industry. You never supported me for day one every move I made and every project I lay my hands on was going all bad. Thanks to your mum witchcraft! Tell her to confess to you."
Tee Billz ended his revelations by saying "I'm sorry I must have disappointed you guys. I just dint have the strength to fight this battle anymore.
"May God Forgive me and accept my soul in peace."
Ezenwoko's Blog reports that the two had gone their separate ways since these revelations were made.
Meanwhile, Tiwa Savage, recently reacted to the claims that her leaked sex tape on the internet was used for publicity stunts.
The former Mavin Record singer had disclosed that the sex tape which has been trending online was mistakenly posted by her boyfriend on Snapchat and was deleted minutes later.
Recall that Tiwa Savage during an interview had accused someone of trying to blackmail her with the sex tape involving her boyfriend.
Reacting to the viral sex tape and all that has been said no her on social media platforms, Tiwa Savage a few hours ago shared a sexy photo of herself with the caption: "Charge that shit to the game n never speak on it again".