#EndSARSMemorial: I Am Not A Coward – Oyo Commissioner Reacts To Protest [Video/Photos]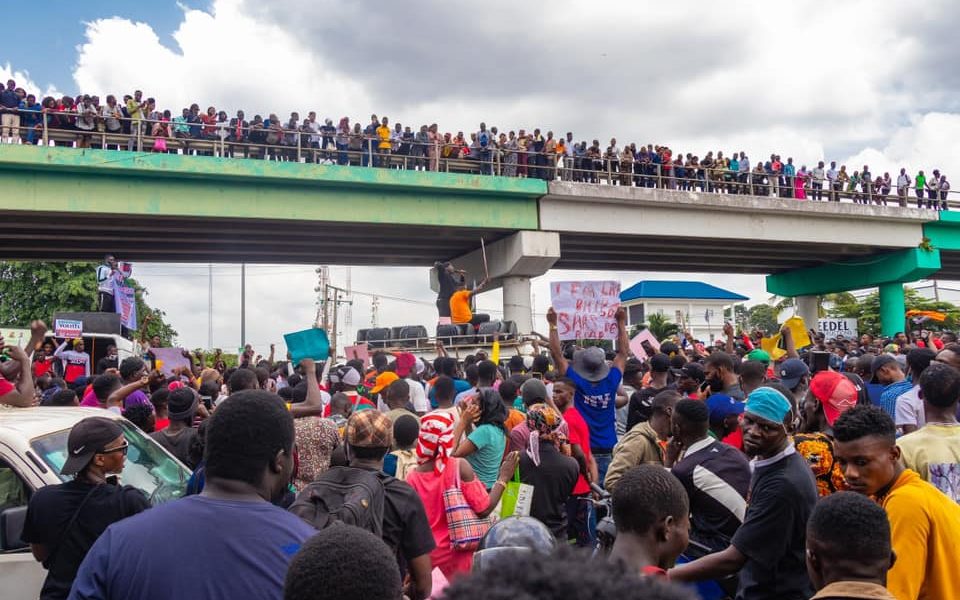 #EndSARSMemorial: I Am Not A Coward – Oyo Commissioner Reacts To Protest [Video/Photos]


The Oyo State Commissioner for Youth and Sports, Seun Fakorede on Wednesday showed his solidarity with the protest against police brutality.
Ezenwoko's Blog understands that the commissioner took to his Facebook page to share pictures and videos of himself participating in last year #EndSARS protest.
Recall that today makes it a year after young people across Nigeria took to the streets to call for the disbandment of the police unit known as the Special Anti-Robbery Squad (SARS) over repeated assaults and unlawful killing of citizens.
The October 20, 2020 protest was, however, at a point responded to with hardness by security agencies, leading to scores of injuries and death.
A heart-melting incident happened at the Lekki Toll Gate in Lagos on the same October 20 after men of the Nigerian Army arrived at the protest ground in trucks and surrounded a large group of protesters holding a peaceful sit-in.
Gunshots were heard at the protesters ground and some protesters were forced to flee the scene while others were reportedly shot at.
Joining the hosts of others today to mark the one year anniversary of the protest using the hashtag #EndSARSMemorial, Fakorede took to his Facebook account and wrote: "We will never forget, we will never be silenced. Not today, not ever! The voice of the Nigerian Youth is strongest together — Remember their silence next time they ask for your votes."
The commissioner said though he was a politician, he is not a coward.
Fakorede insisted that nothing will discourage him and other youths from registering their displeasure.
He added: "Yes, I'm a politician and a public servant — I'm not a coward."
"To Jimoh Isiaq and the many lives lost to this struggle, keep resting in peace, we will get justice, we will win, we shall overcome, some day.
"Amandla Awethu — Nothing Shall Discourage Us! #EndPoliceBrutality #NigeriaShallRiseAgain #SoroSoke," Fakorede wrote on Facebook.
See Fakorede's post below: