Boko Haram/ISWAP Terrorists Killed As Troops Foil Attack On Military Base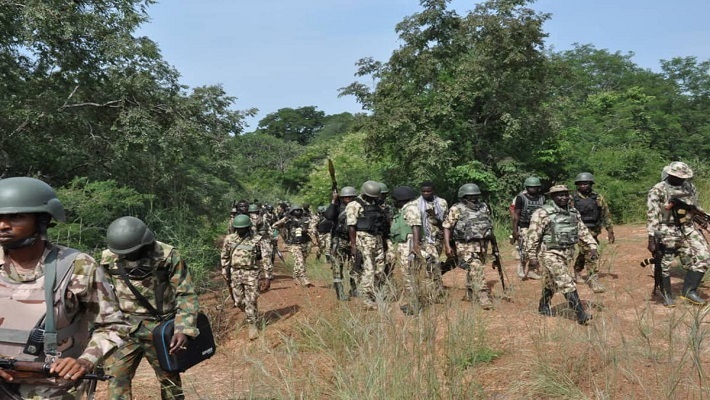 Boko Haram/ISWAP Terrorists Killed As Troops Foil Attack On Military Base


Many terrorists loyal to the Boko Haram and ISWAP groups have died in the hands of security forces after a failed attempt to attack a military base in Borno.
On Monday, the terrorists had attempted to overrun the Forward Operating Base (FOB) in the Wulgo area of Borno State but encountered stiff resistance from the military.
According to the Director of Army Public Relations, Brigadier General Onyema Nwachukwu, a collaborative effort between the Nigerian troops of Joint Task Force, North East Operation HADIN KAI (OPHK) and the Cameroonian Defence Force frustrated the attempted attack by the terrorists.
Three Boko Haram/ISWAP fighters were killed in the battle that ensued as the gallant soldiers forced the terrorists into a retreat.
Reinforcement from the Battalion Headquarters also joined in giving the terrorists a hot chase which resulted in the recovery of three AK 47 rifles, six magazines and 50 rounds of 7.62mm special were recovered.
Similarly, four insurgents were killed on Monday around the 151 Battalion location after their truck ran into an Improvised Explosive Device (IED).
"The terrorists were burnt beyond recognition, as their truck mounted with Anti Aircraft Guns ran over an Improvised Explosive Device (IED)", Nwachukwu added.
Meanwhile, President Muhammadu Buhari on Monday sent a tough warning to bandits, stressing that they "are living in the fool's paradise of invincibility, but reality will soon dawn on them harder than ever before".
Reacting to the killing of over 30 people in Goronyo market in Goronyo LGA of Sokoto State on Sunday, Buhari told the killer-bandits that "the clock of your ultimate destruction is ticking as you will no longer have a place to hide".
He maintained that "the days of the bandits are indeed numbered because the military capabilities of our forces are being boosted by the acquisition and deployment of advanced equipment."
The President, in a statement issued by his spokesman, Garba Shehu, said, "the bandits are currently under desperate pressures because of the intense and sustained air and ground operations against them in their hideouts by our security forces.