Atletico Madrid loanee snubs Nigerian national team for Spain opportunity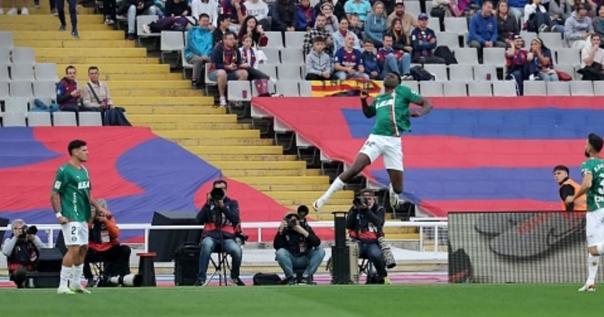 Atletico Madrid loanee snubs Nigerian national team for Spain opportunity


Samu Omorodion who has donned the colours of the Spanish U-19 and U-21 national team is eligible to play for the Flying Eagles, Olympic Eagles and the Super Eagles 
Nigeria-eligible forward, Samu Omorodion, has reacted to the possibility of playing for the Super Eagles, Soccernet.ng reports.
The Deportivo Alaves forward, currently on loan from Atletico Madrid, openly shared that he currently doesn't consider playing for Nigeria. Instead, he expressed gratitude to Spain for providing him with significant opportunities in football.
Omorodion notably played a crucial role for Luis Garcia's side, showcasing his talents by scoring the second fastest goal against Barcelona at the Camp Nou Stadium before the international break.
His performances have sparked hopes among Nigerian football fans for a potential switch to Nigeria, similar to other players like Ademola Lookman, Calvin Bassey, and Nathan Tella.
Despite the anticipation, Omorodion seems to have firmly decided against playing for the Nigerian national team.
"Spain has given me the opportunity, and I am very grateful for it. I don't think about Nigeria. My goal is to debut with the senior side and build my career here in Spain," Omorodion stated, as quoted by AS.
Considering Nigeria's current array of forwards, his services may not be immediately sought after. However, the door remains open for potential future considerations.