2023 Presidency: Debate On Power Shift Politically Immature – Bakare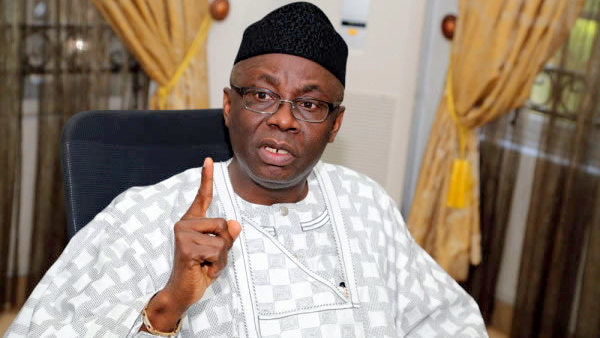 2023 Presidency: Debate On Power Shift Politically Immature – Bakare


Popular tele-evangelist and founder of Citadel Global Community Church, Tunde Bakare, has berated politicians and leaders debating on the zoning of the 2023 Presidency.
Ezenwoko's Blog reports that the South Governors had on two occasions demanded that the 2023 presidency should go to the Southern region of the country.
But the Northern Governors and the Northern Elders Forum (NEF) rejected the idea of a southern presidency in 2023, claiming the demand is unconstitutional.
Speaking to State House correspondents after meeting with President Muhammadu Buhari on Friday in Abuja, Bakare said the debate over power shift is politically immature.
Bakare stated that the competence of a leader and what he has to offer should be of utmost importance rather than where he or she comes from.
The Serving Overseer of the Citadel Global Community Church noted that the idea of zoning has never benefited the region where the president is from.
Bakare asked Nigerians who are willing to serve the country with all their heart to come out and contest in the 2023 general polls and future elections.
He stated that restructuring of Nigeria and change of the constitution is more pressing than the discussion about a power shift, adding that restructuring of the country can take place without violence and bloodletting.
According to the cleric, Nigeria is better off united, adding that such unity must be based on equity, justice, fair play and the rule of law.
He said: "I'd said it on the 3rd of October. It's our immaturity, politically and otherwise, that makes us say power must either be in the North or be in the South, instead of looking for the best, the fittest, the most competent, and people of character who love this nation.
"Listen to me, if where the president comes from will make the place he has come from to be better, the Northern part of Nigeria should be richest and should be the most progressive and the most developed because out of 61 years, the North has produced either the president or heads of state for 40 to 41 years and yet, see the retrogression in the North.
"If it's from the South, why should a person like former President Olusegun Obasanjo freeze and seize the account of Lagos State in his own tenure? If it's from South-South or South-East, why couldn't former President Goodluck Jonathan use all his powers to develop South-South/South East?
"Not where they come from, it's what they carry and what they have to offer. May the best of the best of Nigerians rise, whether they're from the East, from the West, from the North, and from the South.
"If there are agreements between politicians among themselves on rotation, a bargain is a bargain. That's between them. But as far as this country is concerned, what we need at this stage is a man who can drive us to the Eldorado."