Youth Unemployment Is Equal To Insecurity – NLC Tells Buhari Govt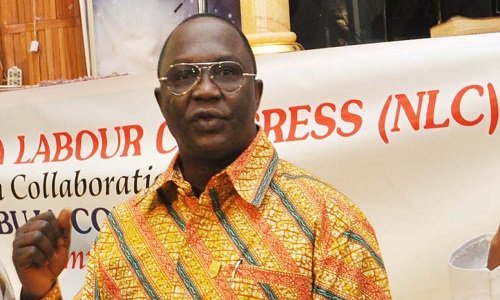 Youth Unemployment Is Equal To Insecurity – NLC Tells Buhari Govt


The Nigeria Labour Congress (NLC) has urged the federal government to urgently address the issue of youth unemployment in Nigeria.
The NLC President, Ayuba Wabba who made the call, likened youth unemployment to a ticking time bomb which may explode anytime.
Wabba stated further that the situation of youth unemployment in Nigeria is very much a big factor in the insecurity plaguing the country.
To tackle insecurity, Wabba submitted that the government must first provide meaningful jobs for its youths.
He made the submission while speaking at the 40th-anniversary celebration of the Labour Writers Association of Nigeria.
Wabba said, "There is no difference between unemployment and insecurity; it is a fact and has been established.
"Decent jobs are very important because without decent jobs there will be no security, no social progress for everybody. That is why the SDG 8.7 has been tied to having decent jobs."
On his part, the Minister of Labour and Employment, Chris Ngige, who was represented at the event by Special Adviser on Media, Nwachukwu Obidiwe praised the Muhammadu Buhari government high in the aspect of youth employment.
He said in the past six years of the Buhari administration, a lot of achievements have been recorded in terms of job creation and youth employment and empowerment.
He noted that on a yearly basis, Nigeria turns out thousands of youths into the labour market.
In other news, controversial Islamic cleric, Ahmad Gumi, on Sunday warned against declaring bandits as terrorists, adding that the decision will come with a prize.
This is coming after lawmakers in the National Assembly charged President Muhammadu Buhari to declare bandits as terrorists following attacks in the Northern part of the country.
Gumi in a post on his Facebook account noted that the actions of bandits in the Northwest which has seen innocent people killed is tantamount to terrorism.
He, however, said the moment bandits are declared terrorists, the direct foreign Jihadist movements will set in force, and many unemployed youths may find it palatable and attractive.
Gumi added that nothing stops kinetic actions from going on without the controversy of semantics.