Tinubu Sparks Reactions After Telling Nigerians Demanding Change Of Govt To Shut Up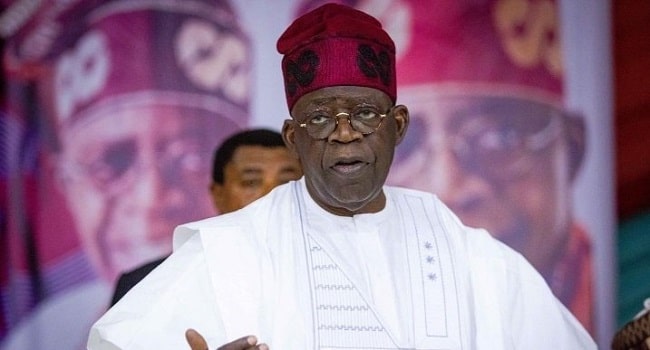 Tinubu Sparks Reactions After Telling Nigerians Demanding Change Of Govt To Shut Up


The All Progressives Congress (APC) presidential candidate, Bola Tinubu, has sparked mixed reactions online after telling the party's women to tell Nigerians demanding for change of government to shut up their mouths.
Ezenwoko's Blog reports that Tinubu made the statement on Monday while speaking at the launch of the women's team of the APC presidential campaign.
In the video making the rounds online, Tinubu told the APC women to shut up Nigerians saying they want a change in government.
The video sparked reactions from many Nigerians who condemned the statement, stating it is a red flag in a democratic government.
royaltyuso wrote: "The presidential candidate of the Apc, who cannot even successfully set up a campaign council, is already asking Nigerians to "shut up". A vote for him will be a vote that will take away your freedom forever. Be wise!"
b3rto_09e wrote: "He don even analyze everything himself, he said majority want a change of government but we shut up … it's obvious they want to rig and they have prepared their formation for the rigging of the upcoming election … leaders are the only disaster in Nigeria for real"
engr_obyno wrote: "So he's campaigning for his mind now? May God deliver Nigerians from suffering and smiling"
ironbarlyn wrote: Red flag alert,in a democratic government you are telling the people to keep quiet? exactly the same way you will govern with iron fist….may God not allow your wishes and desire come to realities
Nkemchor_ wrote: "Nigerians tired of APC's failure want a new Government and Bola Tinubu's response is we should shut up"
officialalphatravel wrote: "Even the audience self shock say which kind product is this"
Naija_Activist wrote: "Tinubu telling Nigerians to shut up their mouth on national tv because they are asking for a change of government. Is this the kinda president you want ? Haaa I am laughing in swahili"
VictorIsrael_ wrote: "Bola Ahmed Tinubu publicly tells Millions of Nigerians on National TV to SHUT UP their mouth. Just because we demand better for ourselves. Because we want to feel secured in our homes, because we want poverty to end, because we are tired of ASUU strike. Nice one"