Tertiary Institution Entrepreneurship Scheme Loan Registration 2021 – TIES Portal Form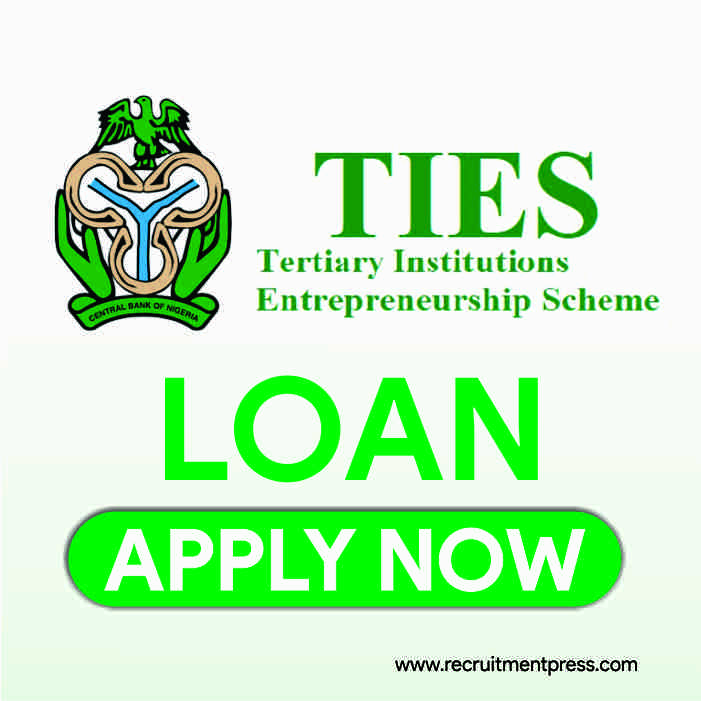 Tertiary Institution Entrepreneurship Scheme Loan Registration 2021 – TIES Portal Form


The CBN as part of its measures to address rising youth unemployment and underemployment, introduces the Tertiary Institution Entrepreneurship Scheme (TIES) to create a paradigm shift among undergraduates and graduates of Nigerian Polytechnics and universities, from seeking white-collar jobs to entrepreneurship.
The scheme aims to provide an innovative financing model that will boost job creation, enhance entrepreneurship development, and support economic growth.
Features
Term Loan
Eligibility
Graduates of any Nigerian University or polytechnics within the past seven (7) years with entrepreneurial interested
Scope of activities:
Agribusiness– production, processing, storage and logistics
Information technology– application/software development, business process outsourcing, robotics, data management
Creative industry– entertainment, artwork, publishing, culinary/event management, fashion, photography, beauty/cosmetics;
Science and Technology– medical innovation, robotics, ticketing systems, traffic systems, renewable energy, waste management
Requirements:
Apply online via the designated online portal (https://cbnties.com.ng/ ) providing requisite information and documents such as:
Valid mobile phone number (linked to your NIN), BVN, NIN, TIN and email address;
Evidence of business registration (certified true copies of relevant CAC documents)
Corporate bank account number of business
Get National Youth Service Certificate (NYSC) discharge or exemption certificate
Note: Priority will be given to innovative entrepreneurial activities with high potentials for export, jobs creation and transformational impact.
Female entrepreneurs are encouraged to apply
Prohibition
Trading activities shall not be eligible for financing under the scheme
Loan Features:
N5 million for individual/sole proprietorship/small company project and
N25 million for partnerships/company projects
Interest rate 5% per annual (9% effective from March 1 2022) or as may be prescribed by CBN
Tenor: 5 Years
Moratorium: 12 Months
Trending   SMEDAN Talent Hunt Program 2021/2022 for Nigerian Youths – Apply Now
Equity Investment
Eligibility:
Start-ups, existing businesses expanding or ailing businesses.
Scope of Activities:
The equity investments shall be enterprises operating with the eligible scope of activities. Applications for participation under the window shall be through submission of application on https://cbnites.com.ng
Developmental Component
The Developmental Component shall be disbursed in the form of grants to Nigerian polytechnics and universities after participating and coming top in a national biennial entrepreneurship competition.
The competition is aimed at raising awareness and visibility of high-impact entrepreneurial/technological ideas among undergraduates, promote entrepreneurial talent hunts in Nigerian polytechnics and universities, as well as encourage innovations that are commercially viable and with transformational impact.
The Developmental Component shall also be utilized for the general development of the MSME segment in the following areas:
Finance the development of the award-winning innovative entrepreneurial/technological ideas;
Research and development of high-impact technological innovations and projects; and
Support the development of financial infrastructure to facilitate the entrepreneurship in Nigerian polytechnics and universities.
Trending   Catholic Caritas Foundation of Nigeria Ongoing Recruitment
Grant
Five (5) top Nigerian polytechnics and universities with the best entrepreneurial pitches/ideas shall be awarded as follows:
First place – N150.0 million;
Second place – N120.0 million;
Third place – N100.0 million;
Fourth place – N80.0 million; and
Fifth place – N50.0 million.
The grants shall be in the following areas:
Agribusiness;
Information technology;
Creative industry; and
Science and technology.
How to Apply for CBN TIES Loan 2021
To begin application, visit https://cbnties.com.ng/
Related