Senate Confirms Buhari Nominee, Husseini Baba-Yusuf As FCT Chief Judge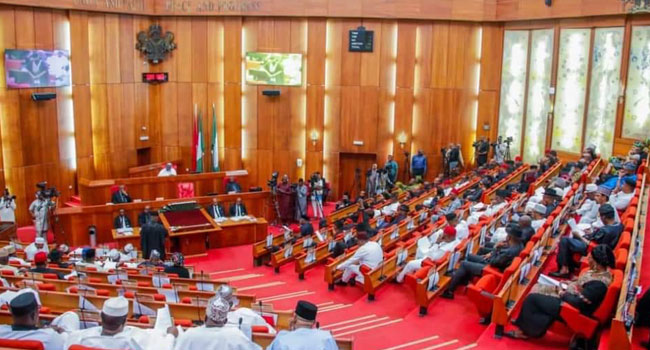 Senate Confirms Buhari Nominee, Husseini Baba-Yusuf As FCT Chief Judge


The red chamber of the National Assembly has okayed the nomination of Husseini Baba-Yusuf as the chief judge of the federal capital territory (FCT) high court.
Baba-Yusuf was recommended for the position by President Muhammadu Buhari who last week, asked the Senate as constitutionally required to screen and confirm the nominee.
Buhari's letter addressed to the lawmakers explained that the request for the confirmation of Baba Yusuf as Chief Judge of the FCT High Court was in accordance with the provision of Section 256(1) of the Constitution of the Federal Republic of Nigerian 1999 (as amended).
"In accordance with provisions of Section 256 (1) of the constitution of the federal republic of Nigeria 1999 as amended, I hereby forward for confirmation by the senate the appointment of Justice Husseini Baba-Yusuf as the chief judge of the high court of the federal capital territory (FCT) Abuja," the president had said.
"While hoping that this request will receive the usual expeditious consideration of the senate, please accept the distinguished senate president, the assurances of my highest regards," the President's letter read in part.
The Senate on Tuesday, following the presentation of a report by its committee on judiciary, human rights, and legal matters headed by Senator Opeyemi Bamidele, confirmed Baba-Yusuf as the substantive chief judge of the FCT high court.
Senator Bamidele said Baba-Yusuf ticked all the boxes expected of him to be appointed and serve effectively in the position.
Ezenwoko's Blog recalls before now, on August 14, Buhari had named Justice Baba-Yusuf as the Acting Chief Judge of the FCT.
The appointment follows the resignation of Justice Salisu Garba as the Chief Judge of the Federal Capital Territory (FCT).
Meanwhile, the Senate has empowered the Independent National Electoral Commission (INEC) to determine the best mode of transmission of election results.
Ezenwoko's Blog reports that the senate made the decision while reconsidering the election amendment act.
Following the lawmakers' decision, INEC will be empowered to decide how to transmit election results — either electronically or manually.