Senate Allows INEC Determine Mode To Transmit Election Results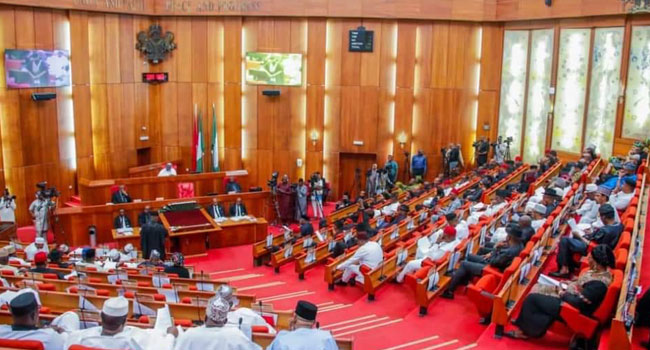 Senate Allows INEC Determine Mode To Transmit Election Results


The senate has empowered the Independent National Electoral Commission (INEC) to determine the best mode to transmission of election results.
Ezenwoko's Blog reports that the senate made the decision while reconsidering the election amendment act.
Under a new amendment of Clause 52 (2) of the Electoral Act Amendment Bill, the Senate resolved that "voting at an election and transmission of results under this Bill shall be in accordance with the procedure determined by the Commission, which may include electronic voting".
Following the lawmakers decision, INEC will be empowered to decide how to transmit election results — either electronically or manually.
Senator Yahaya Abdullahi in his lead debate said the Senate: "Recalls that the Electoral Act No. 6, 2010 (Repeal and re-enactment) Bill, 2021 was passed by the Senate and the House of Representatives.
"Observes that after critical examination of the Bill by the Senate Committee on INEC, some fundamental issues which require fresh legislative action on the following clauses – 43, 52, 63, and 87 were observed.
"Desirous of the need to address the observation by the Committee and make necessary amendments; and
"Relying on order 1(b) and 53(6) of Senate Standing Order.
"Accordingly resolves to: Rescind its decision on the affected Clauses of the Bill as passed and re-commit same to the Committee of the Whole for consideration and passage."
Order 1(b) of the Senate Standing Orders reads: "In all cases not provided for hereinafter or by Sessional or other Orders or practice of the Senate shall by Resolution regulate its procedure."
Also, Order 53(6) of the Senate Standing Orders reads: "It shall be out of order to attempt to reconsider any specific question upon which the Senate has come to a conclusion during the current session except upon a substantive motion for rescission."
The approval followed an amendment to Clause 52(3) of the Electoral Act (amendment) Bill by Senator Aliyu Sabi Abdullahi (Niger North) during the consideration of a report by the Senate Committee on the Independent National Electoral Commission (INEC).
The Committee's had initially recommended in in Clause 52(3) that "The Commission (INEC) may transmit results of elections by electronic means where and when practicable."
Recall that the Senate had earlier declared that INEC may consider the electronic transmission of results "provided national [network] coverage is adjudged to be adequate and secure" by the Nigerian Communications Commission and approved by the National Assembly.