Passengers Narrate Ordeal During Kaduna-Abuja Train Attack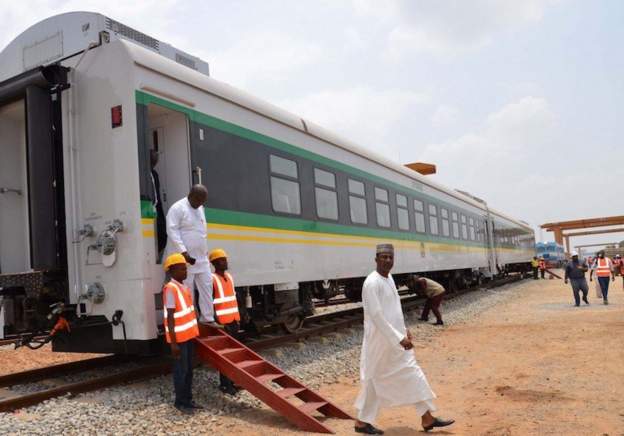 Passengers Narrate Ordeal During Kaduna-Abuja Train Attack


Some passengers who were on the Abuja-Kaduna train service during an attack by bandits have narrated their ordeal.
Ezenwoko's Blog earlier reported the Nigerian Railway Corporation (NRC) boss, Fidet Okhiria, had confirmed that vandals attacked the Kaduna Abuja railway on Wednesday evening.
He, however, denied reports that bandits were responsible for the attack, adding that parts of the train tracks were severely damaged.
Okhiria added that stranded commuters were eventually transported from the venue of the attack to Kaduna safely.
Speaking with Daily Trust on Thursday, former Nigerian Union of Journalist Chairman in Kaduna, Garba Mohammed, stated that the attack happened two sub-station to its final destination at Rigasa station.
Mohammed, who was on the train, said the passengers heard a loud bang and the train gradually halted, leaving the commuters to run for cover.
"The lights went off, the AC's stopped working and we were locked up in the coaches. There was no network, there was no water to drink, people resorted to drinking water from the toilet taps and the toilets became unusable," he said.
"40 killometers to Kaduna, we heard a loud sound and security agents asked us to take cover. A few minutes later, the security agents were moving around. We had to open the windows because of the heat and we could see the main road from the track where the train had stopped."
He disclosed a new locomotive train and security reinforcement from the military were later sent from Abuja that transported the passengers to Kaduna.
"The new locomotive was slow and what should have been a journey of 30 minutes took almost 2 hours. By the time we got to Rigasa station, there were a lot of people who were in panic and waiting for their loved ones."
Mohammed, however, denied reports that the train had been attacked by bandits, adding that the train stopped for about four hours.
He said: "Some people said the train was attacked, but there was no threat to us throughout the period we were stranded, which is about four hours."
"If someone attacks a train and makes it stop for about four hours, then they have enough time to trace the location of the train and attack it, we were at the mercy of a few security officers before the reinforcement came but we were not attacked."
Also speaking, another commuter, Josephine Isiaku, explained that for four hours that they were stranded in an unknown location.
He stated that train crew and security agents did not explain the situation to commuters adding that, "we were left to our own fears and speculations."