Opinion: Osimhen should ignore Bayern Munich, Real Madrid noise and concentrate on Napoli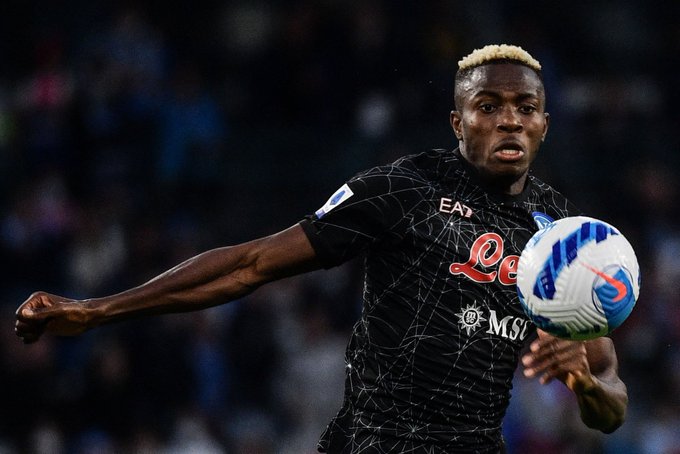 Opinion: Osimhen should ignore Bayern Munich, Real Madrid noise and concentrate on Napoli


If there is one thing constant in football, it is how things change quickly, which makes this statement look like an oxymoron.
When the 2020/2021 season ended, Super Eagles star Victor Osimhen knew he would be going into the following campaign with a lot to prove.
The Nigerian international had joined Napoli from Lille for a club and African record fee of 81.3m euros in the summer of 2020.
It was a transfer fee that put a lot of pressure on his shoulders. The Nigerian started well, scoring twice in his first seven games.
But a shoulder injury he suffered while on international duty caused him to miss action for three months.
Osimhen then suffered another setback after recovering from the injury as he tested positive for coronavirus, causing him to miss another two weeks.
As a result, it was a frustrating first year in Naples for the Nigerian. Not that his performances were bad because, after all, he still managed to score ten goals in 24 league games.
However, for a player that cost the club a fortune, the Neapolitans expected more. And having had an indifferent first year, Osimhen knew this season was going to be pivotal.
Fortunately for the youngster, he received a huge boost when Napoli decided to ditch Gennaro Gattuso for Luciano Spalletti.
In fairness, Gattuso treated Osimhen well, but he never got the best out of him, and Spalletti was tipped to do that, given his track record with strikers. 
Osimhen actually started the new campaign in a disappointing fashion after he was sent off 23 minutes into Napoli's Serie A opener against Venezia.
But having shown a glimpse of what to expect under Spalletti in pre-season, many still expected him to deliver after the red card.
And so far, they have been right as Osimhen has taken both Serie A and the Europa League by storm. The former Lille star has scored nine goals in 11 games for Napoli, meaning he is just one goal away from his tally for last season.
It is not just the goals about Osimhen this season. He is more involved in Napoli's general play now, unlike last season.
Also read: Osimhen has finally hit a purple patch at Napoli thanks to one man
However, Osimhen's good form has come with the unwanted transfer rumours that could distract a player's performance.
In the last few weeks, the Nigerian international has been linked with Bayern Munich, Real Madrid, and Paris Saint Germain– three of the best clubs in Europe.
PSG hope to offer Mauro Icardi plus cash for his services, while Madrid want him as an alternative to Kylian Mbappe.
Bayern, meanwhile, see him as a potential replacement for Robert Lewandowski, whose current contract expires in 2023.
But while these links show that Osimhen's form has not gone unnoticed, the Nigerian should not think about it as that could be detrimental to his progress.
Osimhen has a good thing going under Spalletti, and he must continue his development under the former Roma tactician.
He has taken his game to a new level under him, but he still needs to learn many things, which is a view Spalletti also shares.
"He is accustomed to galloping in wide open spaces, so coming back to get the ball or support his teammate and then make the run are things he is still learning," Spalletti told Football Italia.
Osimhen has been compared to many good players, both past and present, including Kylian Mbappe. However, while the comparison is good, he should concentrate his game and shut out every rumour.
It is important he takes every praise with a pinch of salt as that would keep him motivated to reach higher levels.
Also, at Napoli, he is now one of the leading men in the squad, which is a rare feat for a 22-year-old in one of the biggest clubs in Italy.
It is unlikely the Neapolitans will sell him, though, as Osimhen still has four years left on his contract. Still, he needs to shut out the rumours and concentrate on his football.
At 22-year-old, an opportunity to play for one of the biggest clubs will still come if he maintains this level. But for now, it should all be about Napoli for him.