"Nigeria has given us lot of problems" – Ghana FA President rallies Queens to halt Super Falcons domination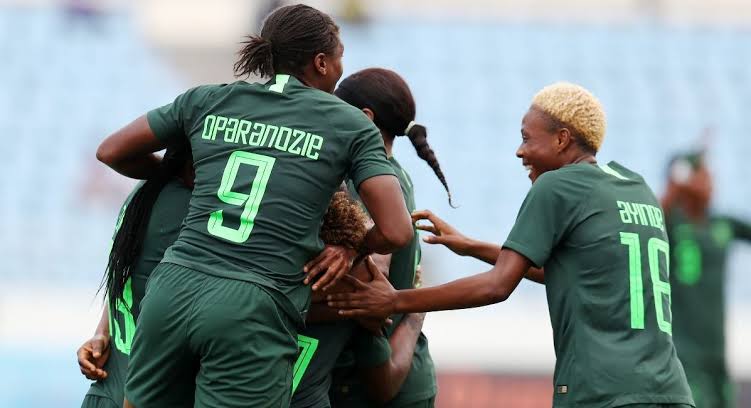 "Nigeria has given us lot of problems" – Ghana FA President rallies Queens to halt Super Falcons domination


The two West African giants will clash in a two-legged affair for a place in next year's Africa Women Cup of Nations in Morocco
President of the Ghana Football Association, Kurt Simeon-Okraku, has urged the Black Queens to do everything possible to beat Nigeria's Super Falcons and qualify for the 2022 Africa Women Cup of Nations tournament to be hosted by Morocco.
Nigeria host Ghana at the Mobolaji Johnson Arena in Lagos for the first leg qualifier on Wednesday, October 20.
The Super Falcons are the most successful women's national team on the continent, having won all but two editions of the AWCON tournament since its inception in 1991.
The nine-time champions have never failed to qualify for the AWCON tournament but face a formidable foe on their way to making it to Morocco 2022.
Ghana may have never lifted the AWCON Cup, but the Black Queens finished runners-up thrice, with Nigeria beating them on each of those occasions.
The Super Falcons are no longer as dominant as they once were, with Cote d'Ivoire edging them out of the running for the 2021 Olympic Games while South Africa defeated them in the final of the Aisha Buhari invitational tournament in September.
FA President Simeon-Okraku admits that the Super Falcons have been a nightmare for his compatriots in time past, but he sees a chance for the Queens to pay the Nigerians back in their own coin.
"Nigeria has given us lot of problems in the past, same way we also have been their nightmare in the past too," the football administrator to the GFA website.
"We all have a fresh platform to give each other more problems, but I believe with the quality of players we have, we can face any opponent and win.
"It does not mean we do not respect Nigeria. They are gifted physically, and we are also gifted technically, and I have a firm belief that we will go in there and make ourselves and Ghana proud.
"Let's go in there and play for one another and most importantly, stay together. In challenging moments when the game is tough for us, when we stay together, we will win."
The Super Falcons opened their training camp for the clash on Sunday, October 17, while the Black Queens are expected in Lagos on Monday.
The return leg is scheduled for Sunday, October 24, in Accra.
The winner over two legs will join hosts Morocco and ten other countries for the 12th Women Africa Cup of Nations next year.