'Mourinho didn't have patience with the young players'- ex-Nigerian U20 star shares his Chelsea experience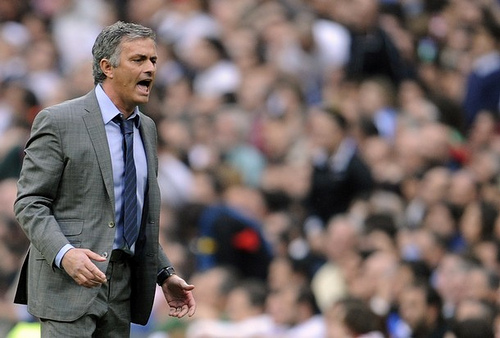 'Mourinho didn't have patience with the young players'- ex-Nigerian U20 star shares his Chelsea experience


The Portuguese tactician is known for his tough approach in management, and that could sometimes affect young players 
Former Flying Eagles star Emmanuel Sarki has revealed how Jose Mourinho was sometimes unforgiving of young players mistakes during their time together at Chelsea.
Sarki was a member of Nigeria's Golden Eaglets team in 2003 and the U-20 team that finished as runners-up in the 2007 African Youth Championship.
The 33-year-old had a trial with Chelsea in 2006, joining the club's reserve team from Lyn Oslo. During his trial, Sarki had the opportunity to train with the Blues first team.
During that period, Chelsea were managed by Jose Mourinho in his first spell as the club's coach. Sarki was involved in a few of Mourinho's training sessions, and he revealed that the Portuguese tactician is very strict with young players.
"Mourinho didn't' have patience with the young players," Sarki told The Athletic.
If we lost the ball, it was like," Fucking hell, what are you doing? You cannot control the ball! What the fuck are you doing" Swearing in Portuguese, too. I forget the words.
However, Sarki revealed former Ghana international Michael Essien always encouraged him, and that boosted his confidence.
"But Michael always told me I was a good player and just reminded me to bring the ball down, control and pass," he added.
"If you need to dribble, dribble. If you don't need to, just pass. You are strong. You are fast, too. If you can, just push the ball past and run, run, run because they cannot catch you."
"He was the guy who really helped me and made me have a lot of confidence."
But despite Mourinho's impatience, Sarki revealed the former Spurs manager wanted him at the club and had high hopes in him.
"After that, Mourinho eventually had faith and believed in me. He thought I'd be one of the players he could rely on if I received a European passport or played for the full Nigerian national team, but that never happened," the ex-Westerlo star added.
Despite playing for Nigeria's U17 and U20 teams, Sarki never got to play for the Super Eagles. He later represented Haiti's national team, earning four caps.
The 33-year-old was eligible to represent Haiti through his maternal grandmother, who was born in the country.