Just In: Gov Samuel Ortom Makes New Appointments In Benue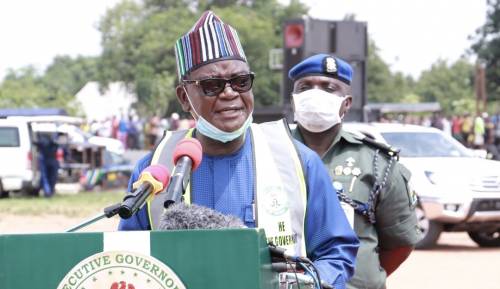 Just In: Gov Samuel Ortom Makes New Appointments In Benue


The Governor of Benue State, Samuel Ortom, has made some appointments into his government.
It was revealed in a publication on Tuesday that Governor Ortom appointed Dr Charles Iornumbe as the new Director-General of the state-owned radio station, Radio Benue.
Also, the governor appointed Nathaniel Ikyur, his Principal Special Assistant on Media as his new Chief Press Secretary (CPS).
Ezenwoko's Blog understands that the CPS position became vacant after Terver Akase relinquished his position to pursue a quest to become the next Governor of the state.
Akase is vying for the gubernatorial seat under the platform of the Peoples Democratic Party (PDP).
The Benue State government appointees were revealed on Tuesday (today) in a post on Facebook.
"Hon Nathaniel Ikyur, CPS, Dr Charles Iornumbe, DG Radio Benue. Great choices again Your Excellency, Governor Samuel Ortom," Akase wrote.
Ikyur and Iornumbe's appointment takes effect from November 1.
Meanwhile, Governor Ortom on Sunday caught red-handed some illegal checkpoint operators at Abinsi, Guma Local Government Area of the state.
Ezenwoko's Blog reports that the governor was returning from Kwande Local Government Area when he bumped into a hold-up.
Trying to find out the cause of the hold-up, Governor Ortom discovered that illegal revenue operators were stopping and harassing heavy-duty vehicles on the road.
He immediately ordered his convoy to stop so he can have a better view of the event.
As soon as he alighted from his car, Ezenwoko's Blog learnt some of the youths at the checkpoint took to their heels.
Drivers of the vehicles who were delayed on the road told Ortom that the checkpoint operators were collecting money from motorists without issuing them receipts, a development that prompted the Governor to order the arrest of four of the operators who could not run.
The Governor directed that those who fled should also be apprehended and thoroughly investigated alongside the four suspects to unravel benefactors of the proceeds from their illegal collections.