Judgement Day Coming On All Of Us – Sonia Ogiri Calls Out Mercy Johnson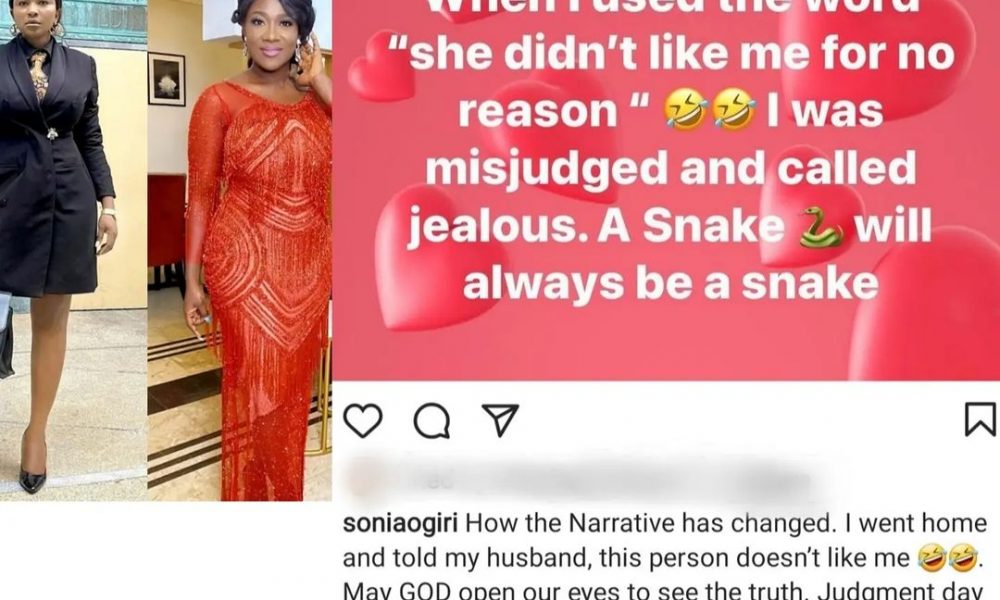 Judgement Day Coming On All Of Us – Sonia Ogiri Calls Out Mercy Johnson


Nollywood actress Sonia Ogiri has called out her colleague Mercy Johnson amidst the ongoing incident at the actress's daughter's school.
Sonia stated that the same way the actrees treated her was the way others were presently treating her as she revealed that she also informed her husband that she had no idea why Mercy does not like her.
She said: "How the Narrative has changed. I went home and told my husband, this person doesn't like me 🤣🤣. May GOD open our eyes to see the truth. Judgment day coming on all of us one by one. GOD will always be GOD. Don't do to others what you don't want them to do to you.Peace ✌️ out"
This is coming after Mercy Johnson accused a teacher in her daughter's school of constantly bullying her and hating her simply because she was her mother.
However, another lady  known by her Instagram handle as thenancychidera who has apologised for her accusations countered the Nollywood actress and stated that Mercy instigated the whole situation and was at fault.
In response to this, Mercy made a video speaking to the teachers in her child school to serve as proof of what truly happened. She went on to state that she had earlier complained to her huband about the teacher in question attitude towards her.
This led to Sonia Ogiri statement of how the narrative have changed which translates to what Mercy did to her is now currently playing out in the present situation.