IPOB Gives Two Conditions That Must Be Met Before It Can Negotiate With The Government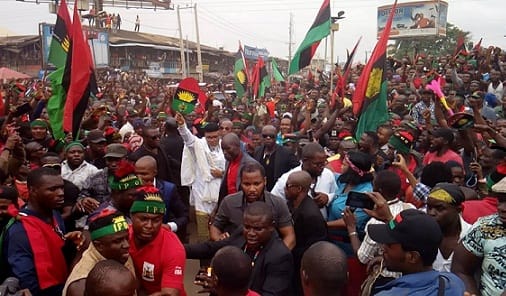 IPOB Gives Two Conditions That Must Be Met Before It Can Negotiate With The Government


The proscribed Indigenous People of Biafra (IPOB) has listed two conditions that must be met before it can enter into negotiations or deliberations with the government.
The group on Thursday through its spokesperson, Emma Powerful demanded the unconditional release of its leader, Nnamdi Kanu, and also want a date set for the referendum on Biafra to take place.
Powerful said once these two conditions are in place, discussions can now follow.
The IPOB spokesperson argued that Kanu has done nothing wrong, adding that some people are openly relating with known bandits and roaming the streets freely while the government is harassing Kanu for asking for what is within his constitutional rights.
According to Powerful: "Our leader Mazi Nnamdi Kanu committed no crime to deserve persecution by the federal government that is openly hobnobbing with real terrorists and Fulani bandits but crushing peaceful agitators.
"We demand unconditional release of our Leader. He should not be in detention while real terrorists and mass murderers are parading freely on the streets.
"Nigeria government should prepare a date for the referendum on Biafra for people to decide where to stay either in Biafra or Nigeria. Those who want to sabotage Biafra freedom should wait for the referendum date.
"IPOB demands nothing other than unconditional release of our great leader, Mazi Nnamdi KANU, and a date for the Biafra referendum.
"We are not interested in any dialogue unless our Leader, Mazi Nnamdi KANU is released before we can sit with anybody for discussion."
Meanwhile, the leader of the Indigenous People of Biafra (IPOB), Nnamdi Kanu, has pleaded 'not guilty' during his re-arraigned at a federal high court in Abuja on terrorism charges.
Ezenwoko's Blog reports that the court session on Thursday commenced at 10 am.
When the charges were read to him, the IPOB leader pleaded 'not guilty'.