Ibadan poly bans use of cross-bags on campus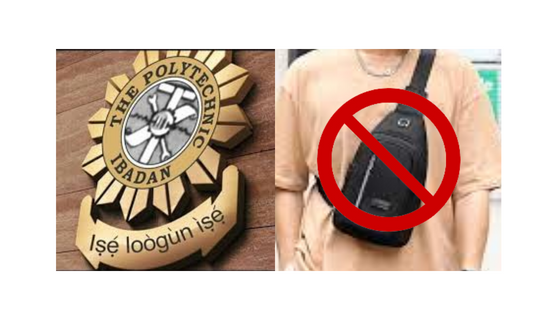 Ibadan poly bans use of cross-bags on campus



The management of The Polytechnic, Ibadan, in Oyo State, has banned the use of cross-bags by students on its campus.
A cross-bag, or crossbody bag, is a type of bag that rests against the body with the help of a strap that comes across the body. It is designed to be worn on one side of the body with the strap looped over the opposite shoulder.
The institution announced the ban in an internal memorandum released by its Directorate of Student Affairs and signed by the Deputy Registrar (SA), Gboyega Odejobi, on Thursday.
The management stated in the memo, which was titled, 'Prohibition of carrying cross bag by students on campus', that any student found disobeying the directive would be appropriately sanctioned.
The memo read, "This is to keep you informed that Management has banned carrying of cross bags by all students on the campus of the institution henceforth.
"In view of the above directive, all students are advised to comply strictly with the non-carrying of cross bags on campus as anyone found going contrary to the directive will be appropriately sanctioned."
All rights reserved. This material, and other digital content on this website, may not be reproduced, published, broadcast, rewritten or redistributed in whole or in part without prior express written permission from PUNCH.
Contact: [email protected]