'He is not limp'- Ex-Juventus star says Osimhen is levels above Chelsea striker Lukaku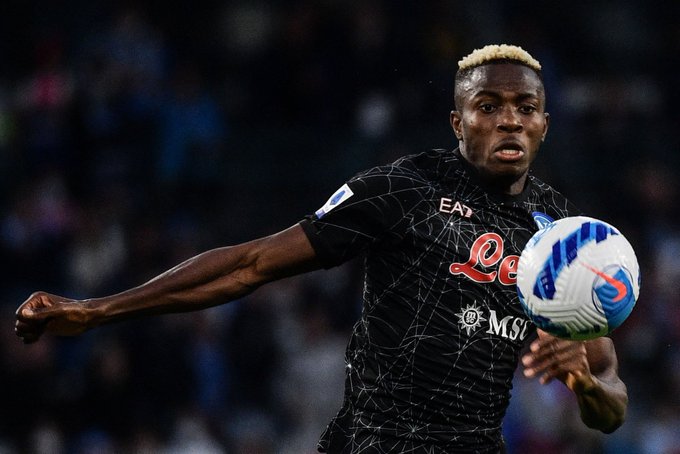 'He is not limp'- Ex-Juventus star says Osimhen is levels above Chelsea striker Lukaku


The 22-year-old striker's form this season has earned him a comparison with the Belgian star, but a former Old Lady star believes the Nigerian is the superior player 
Former Juventus and Lazio star Paolo Di Canio has rejected the comparison between Victor Osimhen and Romelu Lukaku, saying the Nigerian is a better player. 
Osimhen has been brilliant for Napoli this season with eight goals in nine games, including the winner against Torino on Sunday. 
The Nigerian international is finally showing why Napoli made him their club-record signing following an indifferent first year which saw him score ten goals in 24 games. 
Osimhen's form this season has earned praises from Gianfranco Zola and Giuseppe Bergomi, who believed the 22-year-old is similar to Chelsea's striker. 
However, Di Canio has rejected such suggestions saying the former Lille star is not limited like the Chelsea number nine. 
"Osimhen is something else. He has a wickedness; he is not limp," Di Canio told Sky Calcio Club show as per FC Inter1908. 
"It means he is better than Lukaku: who then in the last five games no goals, but that's another matter."
Lukaku, over the past two seasons, has been one of the best strikers in the world, leading Inter Milan to the league title last season. 
He left the Italian club to rejoin Chelsea in the summer and did not take long to announce himself. The former Everton striker scored on his debut in a 2-0 win over Arsenal before scoring two goals on his home debut against Aston Villa. 
Lukaku also scored the winner against Zenith St. Petersburg in the Champions League, but he has not found the back of the net in Chelsea's last five games. 
Di Canio believes the reason for Lukaku's struggles is because the 28-year-old is a functional player and struggles to perform at a higher level. 
"The level is raised, and now it's the fault of Chelsea who are first in the standings. Lukaku was functional as Llorente was, even if Romelu is stronger," the former Sunderland manager added.