Give Us Project Funds Or Nigeria May Have To Depend On UK To Get Its Own Information Soon – Lai Mohammed Tells NASS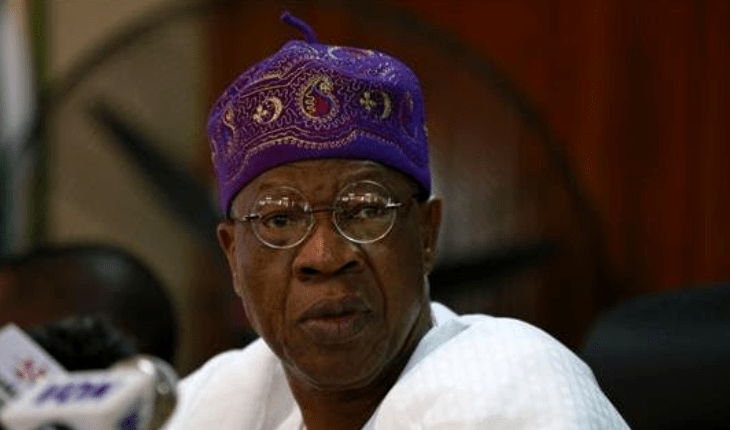 Give Us Project Funds Or Nigeria May Have To Depend On UK To Get Its Own Information Soon – Lai Mohammed Tells NASS


The Minister of Information and Culture, Lai Mohammed on Monday warned that Nigeria is fast losing its historical information and urgent action must be taken to arrest the situation.
The Minister observed that many historical information that should have been stored digitally are still manually stored and should any disaster such as flood or fire affect them, recovering such information may be impossible.
"Very soon we will be going to the U.K. to get information pertaining to us,'' Lai Mohammed lamented.
He made the lamentation in Abuja on Monday when he appeared before the House of Representatives Committee on Information, National Orientation, Ethics and Value to defend his ministry's 2022 budget estimates.
Mohammed explained that if full monetary allocations are not gotten to complete the digital switchover so that national archives are no longer stored manually, Nigeria stands the risk of losing valuable information, and generations to come may not have access to them.
He added that the meagre amounts allocated to his ministry and failure to release the little that is allocated is what is responsible for the challenge.
Mohammed added that to drive home the issue of poor allocation to his ministry and the urgent need to digitize some things, he had to recently drag the Secretary to the Government of the Federation, Mr Boss Mustapha to the Radio House to see some things for himself.
Mohammed made the submission while answering the question posed by a committee member, Anieka Umana (PDP-Akwa Ibom), on steps to be taken to digitally preserve the country's records from pre-independence for future generations.
The minister said: "I can't agree more. On Oct. 1, we had an exhibition and I had to take the Secretary to the Government of the Federation, Mr Boss Mustapha, to our office in Radio House to see the need for urgent digitisation of the records.
"The danger is that, if I need N1 million to digitise and you give me N200,000 what can I do? Year in year out, we roll it over. Meanwhile, we are losing these documents by the day.
"There are some pictures that we need to preserve for our grandchildren.
"If we are unlucky to have flood or rains or fire disaster or termites eat up some of these valuable records, it will not be good for us.
"If we get timely release of money that we need for the project, it will save us of all these,'' he said.
It is understood that the 2022 budget proposal for the ministry include, N3.9 billion for personnel cost and N900.5 million for overhead cost.
Capital budget related to Information and Culture sectors is N1.6 billion and N778 million respectively, while capital common to both sectors is N645.7 million.