CAR hero and Nigeria's nightmare, Namnganda, names the Super Eagles star he admires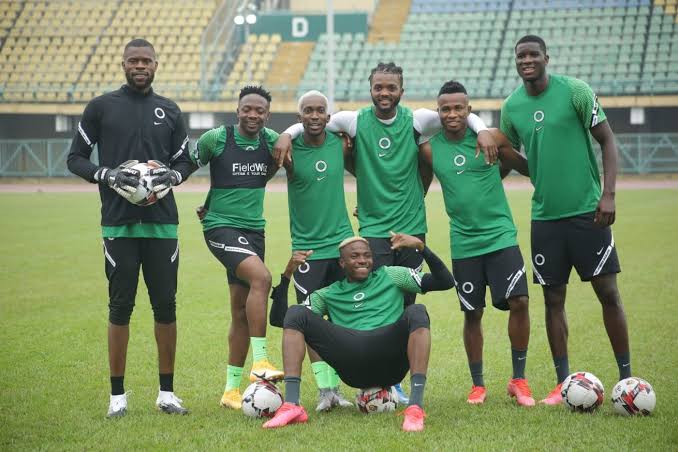 CAR hero and Nigeria's nightmare, Namnganda, names the Super Eagles star he admires


Nigeria had not lost a World Cup qualifier on home soil in forty years until the Central African Republic striker took to the Teslim Balogun pitch on Thursday
Central African Republic star Karl Namnganda has confessed that he admires Super Eagles forward Victor Osimhen, even as he shares his affection for Nantes winger Moses Simon.
Namnganda rose from nowhere to become the most popular Central African footballer almost overnight on Thursday when he came from the bench to net a historic winner for Les Fauves against Nigeria at the Teslim Balogun Stadium.
Backed by a 40-year unbeaten home record, three-time champions Nigeria were the huge favourites to breeze past the less-fancied visitors in the matchday three World Cup qualifying encounter.
Nigeria last suffered a home defeat in a World Cup qualifier on October 1981, and 124th-ranked CAR – a side with no professional player in their squad – did not look anywhere close to altering that record.
Even more so, with the Eagles parading some of Africa's most talented stars, including the continent's most expensive player Osimhen, English FA Cup winner Kelechi Iheanacho, and French Ligue 1's assist-king Simon.
But on an off-day for the Super Eagles, the Wild Beasts comfortably soaked up the little their illustrious rivals had to offer before Namnganda struck his 90th-minute winner that broke the hearts of many Nigerians.
Namnganda, who plays for Les Herbiers, a fourth-tier amateur team in France, has revealed he was not starstruck by the more famous Super Eagles stars as he sees Moses often and likes Osimhen a lot.
"It's impressive to play against them," the 25-year-old told the BBC.
"When we arrived at the stadium, it was funny to see the Nigerians. Osimhen I watch scoring goals with Napoli and he is a player I admire.
"Moses (Simon), since I play in the region of Nantes, I see him every weekend with FC Nantes (in French Ligue 1).
"I was disappointed to not start the game. But with hard work and determination, it's possible to turn things around."
Nigeria meet the Central African Republic again on Sunday, with Namnganda and compatriots dreaming of another massive victory over the 2013 Afcon champions.
Gernot Rohr has said he would not change much of the players that started against CAR in Lagos, which means Osimhen and Simon are likely to feature from kickoff again.
A win would help the Super Eagles remain as Group C leaders ahead of the final rounds of matches against the Cape Verde Islands and Liberia.