Atiku, Tambuwal, Mohammed Show Interest In Contesting 2023 Presidency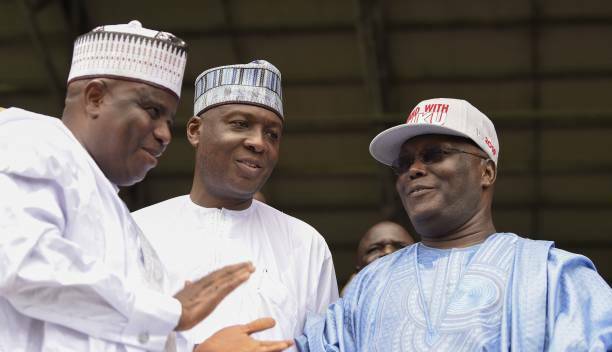 Atiku, Tambuwal, Mohammed Show Interest In Contesting 2023 Presidency


Former Vice President of Nigeria, Atiku Abubakar has indicated an interest in contesting the 2023 presidential election in Nigeria.
Also, Sokoto State Governor, Aminu Tambuwal as well as his Bauchi State counterpart, Bala Mohammed are also eying the nation's number one political seat and have shown interest.
This was disclosed on Thursday by the Oyo State Governor, Seyi Makinde despite the uncertainties that have so far enveloped issues about the zoning of the presidential ticket.
Governor Makinde made the disclosure during an interview with Channels TV where he expressed confidence in the ability of the Peoples Democratic Party (PDP) to win the 2023 presidential election.
He asserted that the PDP has capable and experienced hands while Nigerians are also willing to dump the All Progressives Congress (APC) for PDP in 2023.
He however pleaded for unity in PDP saying the party is the only enemy that can work against itself if members do not unite and pursue a common objective ahead of the next general elections in the country.
He said the PDP governors have realized this and are working towards achieving the objective of unity.
"I make bold to say that the situation in this country today, the only way that you can stop PDP at the federal level is by dividing PDP internally," Makinde declared.
"All the governors of the PDP are well aware of this fact and we made unity within ourselves our number one priority. Once the governors of PDP are able to move in one direction, align on most of the issues and the challenges we are faced with, I think there is hope for this country.
"The issue right now is that our party — PDP — has eminently qualified personalities that can lead this country successfully. Some have indicated interest like former Vice-President Atiku Abubakar, like governor Tambuwal, like governor Bala Mohammed.
"They have indicated interest. But the bottom line is when we get to that bridge, we will definitely cross it. What is important at this stage, which I will solicit the support of PDP members and the generality of Nigerians, is please support us to have a successful national convention
"There is no way you can become anything — president, vice-president, even governor — if we don't have a party. What we want to do first is ensure that we get things right within our party."
On the readiness of the PDP to wrestle power from the APC in 2023, Makinde said: "Well, it is a question that I know Nigerians will answer and they will answer decisively."