APC Presidential Ticket: Bola Tinubu, VP Osinbajo To Hold Crucial Meeting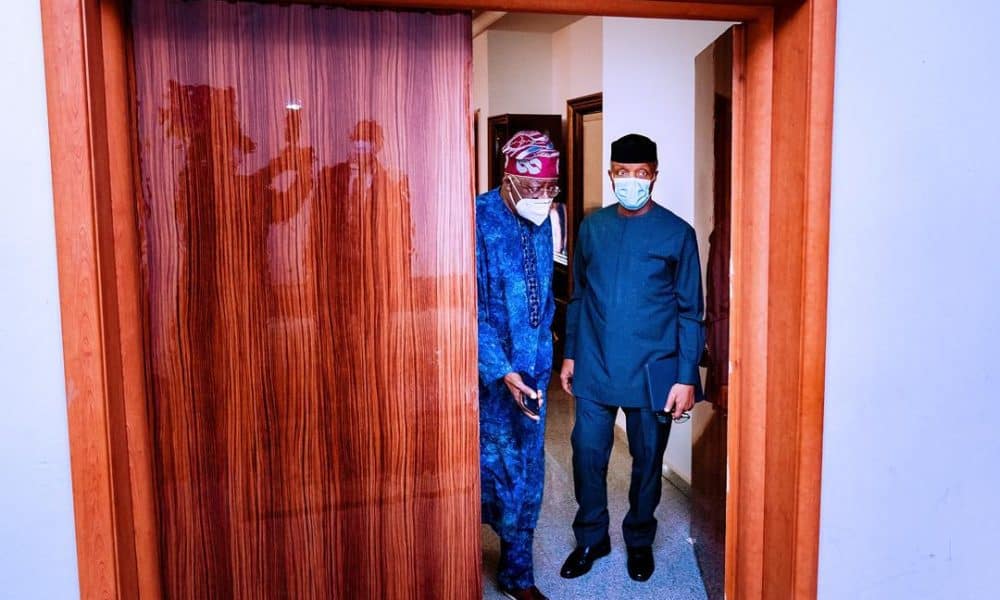 APC Presidential Ticket: Bola Tinubu, VP Osinbajo To Hold Crucial Meeting


As the 2023 presidential election draws near indications have emerged that the ruling All Progressives Congress, APC, is working to prevent an internal crisis over who gets its presidential ticket.
It was gathered that the party is working on selecting a consensus arrangement to pick it's candidate as stalwarts of the APC are already reaching out to members nursing ambition to succeed President Muhammadu Buhari on the need to close ranks.
Top party chieftians have told PUNCH that a crowded presidential primary may breed bad blood and threaten the chances of the party in 2023.
To this end, it was gathered that Vice President Yemi Osinbajo is set to meet with the National Leader of the APC, Asiwaju Bola Ahmed Tinubu.
The duo of Tinubu and Osinbajo are reported to be nursing presidential ambitions in 2023.
One of the sources stated, "Both Ashiwaju Bola Ahmed Tinubu and the Vice President, Prof. Yemi Osinbajo will soon meet to discuss issues relating to the 2023 election."
Another source stated, "Leaders of the party are working on adopting a consensus presidential candidate, which has received presidential endorsement."
The source revealed that Osinbajo had constantly been in touch with Tinubu despite not visiting him in London when he was undergoing medical treatment.
Recall that the Presidential Political Adviser, Senator Babafemi Ojudu, had recently denied reports that there was a crisis between the two leaders.
Ojudu said, "Asiwaju Bola Ahmed Tinubu and Vice President Yemi Osinbajo are members of same party. Osinbajo regards Tinubu as a respected leader of a political family to which he belongs and will therefore not for any reason endorse an endeavor that seeks to pitch them against each other.
"We are not unaware of some people who may want to foist a crack among our leaders. Such an attempt is abortive. Osinbajo and Tinubu's relationship dates way back and it shall continue to wax strong."